Soldiers' e-mail lay-offs 'were an isolated error'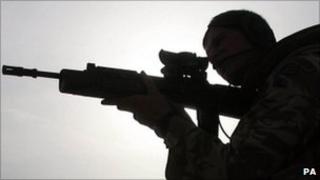 E-mails sent out to 38 soldiers to tell them they were losing their jobs were the result of a "genuine and isolated error", a defence minister has said.
Andrew Robathan said normal procedures were not followed and the soldiers should have been told first.
The men, one of whom was serving in Afghanistan, were sent an e-mail giving them one year's notice, saying it was part of defence cutbacks.
The Army has apologised and has been investigating what happened.
The Ministry of Defence said the inquiry involved three Army personnel and was completed on February 23.
Mr Robathan said the findings would not be published.
He said: "This investigation has confirmed this was the result of a genuine and isolated error which meant the normal staffing procedures were not followed.
"This meant the 38 individuals affected had not been informed of this decision by the chain of command before they received the email from the Army Personnel Centre, which would usually be the case."
He said in future, a colonel would have to sign off all communications about job losses.
"The MoD fully recognises the distress this caused the individuals and their families, and I take this opportunity once again to apologise unreservedly for this error."
The e-mail was first reported by the Sun newspaper last month. It said the warrant officers included a Royal Tank Regiment veteran who was working on the front line in Afghanistan when he received the redundancy notice.
All the soldiers had completed several decades' service and served in the Army on a rolling contract - known as the long service list.
Defence Secretary Liam Fox said at the time it was "completely unacceptable" that the soldiers had learned of the news by e-mail.
Last October, the government's strategic defence review outlined cuts of £4.7bn over four years, with defence spending falling by 8% in that period.
Some 42,000 defence jobs will be cut by 2015 - including 25,000 civilian staff at the MoD, 7,000 in the Army and 5,000 in the Royal Navy as well as the RAF.