Thousands of council staff 'get £100k payouts'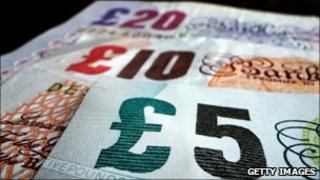 More than 2,000 council staff received more than £100,000 last year, boosted by generous redundancy packages, according to a pressure group.
The Taxpayers' Alliance's list is based on councils' statements of accounts.
It says 2,295 employees got more than £100,000 in pay, benefits, pensions and redundancy - 18% more than in 2008-09.
Local Government Association chief John Ransford said there had been a "short term spike" in redundancies as councils made changes to cut long-term costs.
The Taxpayers' Alliance also suggest 48 council staff received "total remuneration" of more than £250,000 - up from 19 the previous year.
'Dodgy deals'
Top of the town hall "rich list" was Phil Dolan, whose remuneration package on stepping down as South Somerset chief executive in March 2010 was £569,000.
The figure included £157,000 pay, £167,000 redundancy, £6,000 "benefits in kind" and £239,000 in pension contributions.
Mr Dolan took early retirement as South Somerset and East Devon district councils agreed to share a chief executive, something council leader Tim Carroll put down to the "public sector squeeze".
The package was described by the government as "unacceptable".
South Somerset District Council said sharing a chief executive had already saved it £96,000 a year. They said Mr Dolan's redundancy payment had been calculated using the same formula used for all staff and it was required to pay £239,000 into the local government pension fund.
The Taxpayers' Alliance said this year most of its figures were compiled from councils' own accounts - while in previous years they had been done through Freedom of Information requests.
Local Government Minister Grant Shapps said the previous Labour government had allowed pay and perks for council executives to go "through the roof".
"Too many dodgy deals were struck behind closed doors, with pay inflation fuelled by head-hunters on commission and by boomerang bosses going from council to council hiking their pay," he said.
At a time when councils are making cuts, more town hall chiefs should consider taking a pay cut, Mr Shapps added.
But Mr Ransford, chief executive of the Local Government Association - which represents councils in England and Wales - said the fact the report was compiled, showed local government was being "transparent" on pay.
He said: "Councils provide more than 700 services local people want and need, from collecting rubbish and maintaining roads to providing schools and caring for the elderly.
"Many have large budgets and need to pay competitive wages if they are to attract and keep people capable of delivering the best services at the lowest cost."
He said local authorities were the "most efficient part of the public sector" and many of the payouts highlighted by the list were "brought about by one-off redundancy payments made as councils strive to become even more efficient".
"Those increases represent a short-term spike caused by councils introducing measures like sharing chief executives and merging back offices which will significantly reduce management costs in the long term."