AV referendum: Nick Clegg pulls out of Lib Dem launch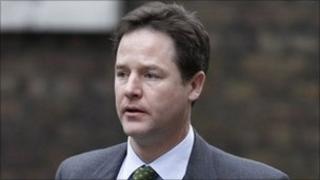 Lib Dem leader Nick Clegg was forced to pull out of the launch of the Liberal Democrat Yes to AV campaign to attend an emergency cabinet meeting on Libya.
The deputy PM had planned to make a speech in Manchester to kick off the party's campaign to scrap the UK's first-past-the-post voting system.
In his absence, party president Tim Farron said the current system had "failed" and switching to alternative vote would give people "more power".
The referendum will be held on 5 May.
Changing the voting system has been a long-standing policy objective for the Lib Dems.
The Lib Dem leader found himself at the centre of a row earlier this week when Labour leader Ed Miliband, who also backs AV, refused to share a platform with him, arguing that his presence would damage the campaign.
'Important vote'
Mr Clegg had earlier signalled his determination to play a leading role in the Yes campaign by devoting a significant section of his keynote speech to his party's spring conference in Sheffield to the issue.
Mr Farron, who is leading the party's yes campaign, told activists that the current system was "past its sell-by date".
"We have a medieval voting system that has failed. It's failed to give most people the MP they voted for, it's failed to hold MPs to account, it's failed even to do the one thing it was supposed to be good for - you know, delivering a majority single party government."
He said AV, in which voters can rank candidates in order of preference, was a small change to the existing system but would make a big difference.
"Voting yes in May is not like voting in any other election," he said. "Voting yes in May will be the most positive and the most important vote you will ever cast. We have the chance to have fairer votes for everyone in Britain for the first time in our lifetimes but, if we lose, for the last time in our lifetimes."
Prime Minister David Cameron launched the Conservatives No2AV campaign last week, urging delegates at his party's spring conference not to fall for the Yes campaign's claims it would lead to fairer voting.
"They want us to ditch a voting system that has served our democracy for centuries that is used by almost half the electors on the planet and that, yes - is simple, it's clear, it's decisive, which time and again has given people the power to kick out tired governments," he said.
'Lead campaigners'
The Lib Dems have long campaigned for a change to Britain's first-past-the-post electoral system, although their preferred system was the more proportional single transferable vote.
But the Conservatives agreed to a referendum to change to the alternative vote, in which voters rank candidates in order of preference, as part of their coalition deal.
Separately, the Electoral Commission has designated the Yes to Fairer Votes and No to AV groups as official "lead campaigners" for the two sides in the referendum.
The two groups will now have access to benefits including an increased campaign spending limit of £5m each, a public grant of up to £380,000 each, referendum broadcasts, a free delivery of campaign material to voters and the use of public rooms.
Anyone spending more than £10,000 during a referendum campaign must register with the election watchdog.