Goldsmiths win court privacy order on hacked e-mails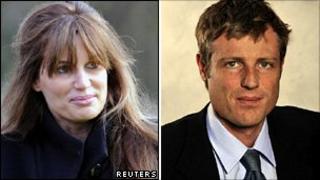 Details of personal e-mails from Tory MP Zac Goldsmith's ex-wife Sheherazade and his sister Jemima Khan should not be published, the High Court has ruled.
It has emerged a woman hacked their e-mail accounts and passed details to a national newspaper journalist.
The case was made subject to a "super injunction" in 2008, meaning nothing could be written about it at all.
Mr Justice Tugendhat ruled the contents of the e-mails should be kept secret, but the super injunction should end.
It emerged at the High Court hearing on Tuesday that a woman, identified as BCD, hacked into Mrs Goldsmith and Mrs Khan's e-mails and sent them to a journalist, who alerted the Goldsmiths.
They and Mrs Khan immediately applied to the High Court, before issuing claims forms, and were granted a "super injunction", which banned publication of all information relating to the proceedings.
By the end of January 2009, there were suspicions that the hacker was a woman, who was arrested in May 2009.
Police decided not to prosecute because she expressed remorse and accepted a caution.
But the Goldsmiths and Mrs Khan overlooked the fact they had given undertakings to serve claim forms - used to commence High Court proceedings - and, having gone to the police, did nothing to progress their claim.
It led to a new court hearing earlier this month.
Mr Justice Tugendhat said the "breach of an undertaking is very serious and must be fully explained to the court".
But he said the Goldsmiths and Mrs Khan had apologised and the breach had not been intended for an improper purpose.
He discharged the orders from 2008 but made fresh ones, saying that BCD's mental health remained fragile and there was a risk to the Goldsmiths and Mrs Khan, from which they were entitled to be protected.
The Goldsmiths, who divorced last year, and Mrs Khan had been the "victims of a crime".
Preventing publication of the e-mails' contents did not interfere with anyone's freedom of expression, the judge said - but newspaper publishers had requested that the anonymity and ban on reporting the fact there was an injunction be lifted.
The judge said: "No-one has suggested that the personal e-mails exchanged within a family which are disclosed by a hacker should not be the subject of an injunction to restrain a breach of confidence in ordinary form.
"However, the order for anonymity and the order restraining 'the publication of all of the information relating to these proceedings or information describing them' were interferences with freedom of expression and derogations from open justice."
Mr Justice Tugendhat said the orders were justified when they were made, but should only have lasted as long as it took to serve the claim forms.