Budget 2011: Can chancellors create growth?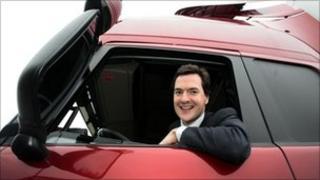 All chancellors like to talk up the prospects for growth - but it can be a politically high risk business.
When Norman Lamont, as chancellor in 1991, predicted the "green shoots" of economic recovery it was seen as a major gaffe that jarred with people's everyday experience of falling living standards.
Treasury ministers have been careful not to talk about "green shoots" in the run up to this year's Budget, but they do want to present a more optimistic message about growth and to move away from an economic narrative dominated by talk of cuts.
Hence the desire to present this economic statement as "A Budget for Growth".
And yet talk to former chancellors and one of the things they all seem to agree on is that there is actually comparatively little that any chancellor can do to create growth.
'Government spin'
Norman, now Lord, Lamont, says there is "no magic wand" that any Chancellor can wave to kick start an economy.
And his then Chief Secretary to the Treasury David Mellor accuses the government of "spin" in seeking to suggest this is a Budget for growth.
Indeed, now Lord, Lawson, warns that attempts to simplify the tax system and "micro manage" the economy can actually be harmful. Far better, he argues, for government to get out of the way and leave business alone.
It is also clear that the government's growth agenda is hardly new.
Enterprise Zones, which the government hope will boost growth in the English regions, were first tried by Mrs Thatcher back in the 1980s.
Getting rid of red tape, which ministers think will free up business, has been endlessly talked about over the years - most notably by Michael Heseltine, as President of the Board of Trade in the 1990s, when he promised "a bonfire of regulations".
Tricky message
Even moves to simplify the tax system by merging national insurance and income tax have been attempted before.
Lord Lawson, regarded as one of the great reforming chancellors, spent a good deal of Treasury time and brainpower examining the idea before concluding it was more trouble than it was worth.
But the biggest danger, when it comes to selling the growth message, is that it does not chime with the squeeze on living standards which people are having to endure.
For most of the tax rises and spending cuts pencilled in by the government are just about to bite.
In short, there is as mismatch between talk of economic growth and the distinct lack of growth in family budgets.
So while its tempting for chancellors to trumpet growth, it can be a tricky message to sell.