Council tax bills in England 'frozen or reduced'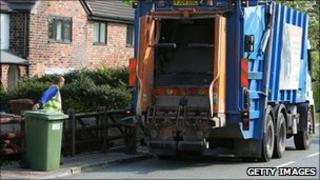 Most council tax bills in England will either be frozen or cut this year.
Communities Secretary Eric Pickles said it was the first time the tax had not risen since it was introduced in 1993 - after his department provided £650m to support councils not increasing bills.
The average bill for a Band D household will remain £1,439 for 2011/12.
However, some bills may still rise because parish councils are not covered by the freeze arrangements and could raise their share of the tax.
Some 378 councils have frozen the tax and 43 have cut it - although the cuts are not big enough to significantly affect the average bill.
Each of the local authorities will now receive an additional grant from the Department for Communities and Local Government (DCLG) equivalent to them having increased their council tax by 2.5%, paid in 10 equal instalments from April.
Four-year freeze
The new council tax levels come into effect from April.
Mr Pickles also said councils would receive an extra £2.5bn of central government funding over the next four years to help them maintain the freeze.
"Tackling public debt is our highest priority but we are determined to protect hard-working families and pensioners who have been squeezed for too long.
"This is about giving real and immediate help to families struggling with the daily cost of living," he said.
A spokeswoman for the Local Government Association, which represents the majority of local authorities in England, said councils "deserved credit" for keeping council tax to a minimum, "meaning more money in the pockets of residents, at a time when they are facing unprecedented financial pressures".
"This achievement goes to show that government plans for local referenda on council tax levels are unnecessary.
"Councils are already accountable to their residents and for ensuring local people get value for money for the taxes they pay."
The announcement comes after local government leaders said English councils faced a 12.1% cut in their core central government funding next year.
The Local Government Association has said the settlement for 2011-12 is the toughest "in living memory" and will "inevitably" mean cuts in services.