Nick Clegg hails 'axis of openness' amid Libya action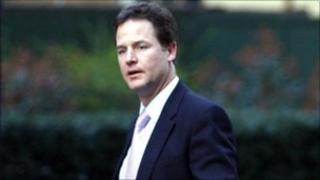 UK Deputy Prime Minister Nick Clegg has defended military action in Libya and hailed a "new axis of openness" in global affairs in a keynote speech.
He insisted Libya is different from the war in Iraq, which he opposed, and argued that "law-abiding liberal interventionism" is not dead.
Mr Clegg, who is in Mexico on a trade mission, hailed the return of "multilateral" action.
David Cameron earlier hosted a summit on the West's next move in Libya.
The UK and its allies said they had agreed the military campaign against leader Muammar Gaddafi would continue until he complied with a UN resolution to protect civilians.
'Terrible tragedy'
Mr Clegg's Liberal Democrats were the only one of the three main UK political parties to oppose the 2003 US-led invasion of Iraq.
But his party, which governs in coalition with Mr Cameron's Conservatives, has been a firm supporter of the action in Libya.
Speaking at Chapultepec Castle in Mexico City, Mr Clegg said: "There is a good deal of concern in the UK, and I know here in Mexico too, about the military action. The sight of coalition warplanes in action in North Africa is a stark reminder of earlier conflicts.
"Like most of you, I was a strong opponent of the war in Iraq. It was wrong. But the action being taken in Libya today is right.
"It would be a terrible tragedy if the mistakes of Iraq led to a retreat from the principle of liberal interventionism, from the principle that we have a collective responsibility to support freedom and protect human rights around the world.
The lesson of Iraq is not that intervention in support of liberal aims is always wrong. The lesson of Iraq is that any such action must only - and must always - be multilaterally sanctioned and driven by humanitarian concerns.
"Liberal vigilantism is dead. Law-abiding liberal interventionism is not."
'Dark decade'
Mr Clegg said there were significant differences between Iraq and Libya "so the action in Libya does not signal a return to the trigger-happy policies of the past. It represents a responsible, collective decision to intervene on clear legal and moral grounds."
"The outcome in Libya is uncertain. We can be sure that there will be surprises - good and bad - setbacks, and unintended consequences. It will not be easy. And it will not be tidy.
"We should therefore conduct ourselves with humility and realism. We have to be clear about what is right for us to do, and clear about the limits of what we are able to do."
He contrasted the words of US President George Bush, who in the aftermath of the 11 September 2001 attacks described Iraq, Iran and North Korea - later expanded to include Cuba, Libya and Syria - as an "axis of evil", with a new mood of optimism sweeping the Middle East and the wider world.
"After a dark decade in world affairs, 2011 marks an unexpected moment for multilateralism and democracy," he said. "A new 'axis of openness' is forming.
"We have to seize this moment, and transform 20th century international institutions to meet 21st century demands."
Grounds for optimism
He added that the challenges facing the world, such as climate change, economic growth and migration, were global and could only be tackled through international action.
"Following Iraq, the consensus among most observers of the world scene and, if I am honest, a secret fear among many politicians of my generation - was that the multilateral system was damaged, and the cause of global co-operation had been set back, perhaps for a generation.
"But the events of the last year show that, after years of rational pessimism, there are now grounds for cautious optimism.
"Just as 1989 and 2001 marked sharp breaks with the past, so 2011 could prove to be a turning point in international affairs: the third critical moment in recent history."
Mr Clegg later addressed the Mexican Senate in Spanish, telling them that the UK and Mexico would seek to double the value of their bilateral trade by 2015.
He said it was "perverse" that the UK accounted for less than 1% of Mexico's imports given its extensive global trade links and Mexico's openness to foreign trade.