Analysis: Labour's English council election launch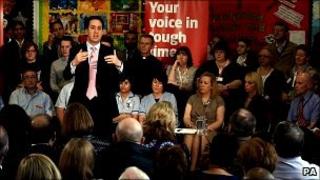 My councillors cut better than your councillors.
That claim will be central to the English local election campaign.
Voters will pick local politicians to decide how savings are to be made in the coming years.
So while the parties battle over policies settled at Westminster, they will be careful to make councillors' decisions part of the debate.
At his campaign launch Ed Miliband urged his supporters to fight the elections as if they were a general election.
But he was careful to draw attention to the performance of his party's councils, arguing they were making a good job of spending less.
Mr Miliband asked: "Is there any point in choosing a Labour councillor over a Liberal Democrat or a Tory councillor? My absolute emphasis is to say to you 'yes'."
Labour controlled Sandwell was making efficiency savings, he said. Durham was consulting with the community over cuts.
The Conservative counter-claim is not simply that Labour councillors are incompetent, but that they are cutting with party political advantage in mind.
The Conservative Communities Secretary Eric Pickles has accused them of a "bleeding stump" strategy, and argued they were "playing politics with people's jobs and people's homes and people's services".
Nick Clegg has boasted that not a single Liberal Democrat-led council has plans to close a Sure Start children's centre.
Labour is fighting its first campaign in opposition for 14 years, and hoping to woo voters by styling itself as the voice of put-upon voters in tough times.
The Conservatives and Liberal Democrats say Labour's economic performance in government is to blame for the cuts that have to be made.
But even before those arguments are heard Labour has a natural advantage.
The council seats being contested in May were last fought in May 2007, with Tony Blair in the last few months of his premiership. Then, the Conservatives achieved their best local election performance for 20 years.
So Labour goes into this contest from a low base.
Election analysts Colin Rallings and Michael Thrasher of Plymouth University suggest that means the party could win more than 1,000 seats.
Labour campaigners will hope they can oust enough Liberal Democrat councillors along the way to unsettle Nick Clegg's party.
But high expectations can transform an apparently healthy result into a public disappointment, and Mr Miliband is in no mood to publicly state a target for election gains.
One senior Labour source rejects the Rallings and Thrasher analysis, and says Labour are not forecasting victory in 1,000 seats.
As ever, local election results will be seen by some as barometers of the fortunes of Labour, Conservative and Liberal Democrat leaders.
This time though the decisions made by their councillors will play a much bigger part in the national debate.