No rest for Cameron and Clegg as NHS questions continue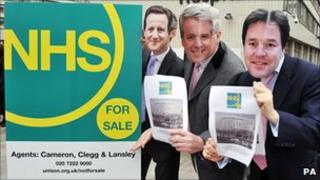 The prime minister has - up until now - tried to make a virtue out of the simplicity of his approach to health policy.
Take his speech to the Conservative Party conference in 2006.
Still new to the job of leading his party, and still setting out his political stall to the country, the health service was his central theme.
"Tony Blair explained his priorities in three words: education, education, education," he told Tory activists in Bournemouth. "I can do it in three letters: NHS."
The message was clear: you can trust us with the health service, end of discussion.
Fast forward a few years to the most recent Conservative conference, and Mr Cameron's outlook on health policy had expanded from three letters to three words: "The NHS: protected."
The aim of the message again: clarity.
Soup of jargon
And yet now the government finds itself embarking on what it is calling a "listening exercise."
Even some of those in favour of Health Secretary Andrew Lansley's plans mutter that ministers have made a hash of selling the ideas.
Less charitable critics say they are a disaster.
In a swirling soup of jargon and detail, there is confusion and uncertainty from many others about what exactly is being planned.
In among this, the dynamics of coalition government are playing out.
At the Liberal Democrat spring conference in Sheffield a few weeks ago, activists queued up to criticise what many saw as a "damaging and unjustified" shake-up of the NHS in England.
From the grassroots to the grandees, there is nervousness. Lib Dem peer Baroness Shirley Williams told the BBC there would be "very serious" consequences for the coalition unless there were significant changes to the Health Bill.
Soothing noises
And while David Cameron is out of the country, visiting Pakistan, and Downing Street officials are emphasising the importance of presenting the changes more clearly, it is Lib Dem leader and Deputy Prime Minister Nick Clegg who is touring TV and radio studios.
He appears to be talking up the prospect of a real shake up of the plans, saying there could be "substantial" changes to the legislation.
Soothing noises for Lib Dem activists to hear, with elections just weeks away.
Both the prime minister and his deputy are planning a travelling charm offensive now to sell the plans. Expect to lose count how often they will tell us they are "listening."
It will be a roadshow of smiles and reassurance.
And, it would appear, the government plans for the star roadshow turns to be Messrs Cameron and Clegg.
It seems there will be a lonely time ahead for Andrew Lansley.