Some councils 'not encouraging voters'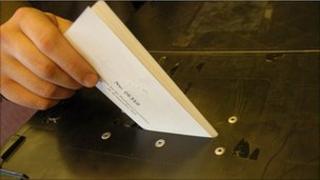 More than one in eight councils are not doing enough to register people to vote, a watchdog says.
The Electoral Commission also found almost one in 10 authorities had no strategy to encourage participation.
A referendum on voting reform and elections for English councils and administrations in Scotland, Wales and Northern Ireland take place on 5 May.
The commission said it was dealing with councils who "have failed to meet the standards" required to register voters.
The organisation, which is politically neutral, is attempting to raise turnout at elections and referendums, including those on 5 May.
The deadline for registering to vote is 14 April in England, Wales and Northern Ireland, and 15 April in Scotland.
The commission has sent leaflets out across the country explaining the workings of the alternative vote (AV), which would replace the current "first-past-the-post" system for Westminster elections.
But its latest review of UK electoral registration officers' performance found 47 out of 379 were failing to meet its standard for "encouraging participation in the registration process".
Of those, 38 had not once been able to show evidence of a public awareness strategy since the commission began monitoring performance three years ago.
The report said that, despite widespread improvements in performance generally, serious issues remained in a number of parts of the country.
In total, 84% met or exceeded all 10 of the set standards, which cover the completeness and accuracy of records, integrity, participation and planning and organisation.
"We will be working with EROs [electoral registration officers] who have failed to meet the standards to ensure that they will in future deliver a service to voters which meets our expectations, and we will report again on their performance this summer," commission director Andrew Scallan said.
"While the performance of the majority of EROs is improving, we want to be confident that registering to vote is as straightforward, accessible and secure as possible in every part of Great Britain."
Meanwhile, a Populus poll for the Times newspaper suggests public enthusiasm for bringing in AV has waned.
Stated support stands at 33%, down from 41% seven weeks ago. The proportion opposing AV is 37%, up from 29%, it adds. Some 1,040 adults were questioned.