What can the Lib Dems do about the NHS?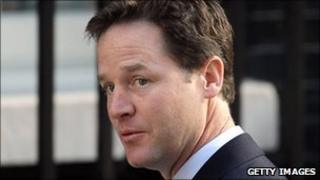 Nick Clegg said there would be "substantive, real changes" to the government's health plans.
But what sort of changes did the deputy prime minister, and Liberal Democrat leader, have in mind?
His backbench MPs and peers are drawing up proposals to answer that question for him.
They will put their suggestions to Mr Clegg and the Lib Dem health minister Paul Burstow.
They are worried about the role of private companies in the health service, how the public gets a say in health services and how much re-organisation will cost.
The party put pressure on the government by calling for a series of amendments in a motion passed at its spring conference in Sheffield.
Since then activists have been campaigning for MPs to make good that motion by altering the government's policies for the NHS in England.
'Cherry pick'
They want to change the remit of the NHS economic regulator Monitor.
Its job will be to promote competition where appropriate. But Lib Dems want to give Monitor new duties to promote aims like collaboration or fairness.
The party wants the consortia of GPs which will commission health services to be more accountable to the public, although it is divided about how that should be achieved.
Some, like the MP Duncan Hames, want elected individuals on the boards. Others simply want new ways of holding consortia's plans to account.
The government has signalled it will make changes.
Health Secretary Andrew Lansley has acknowledged people want to know private companies cannot "cherry pick" the NHS services that will be most easy for them to provide.
He told the House of Commons the voice of the public and patients must be strengthened.
The Department of Health said it had already amended legislation to ensure competition will be based on quality not price.
However, Lib Dems may not be satisfied with this.
Amendments
One of the party's MPs said: "If you compete on quality you will still get nasty things happening."
The most difficult political question may centre on how quickly the changes will be made.
The Department of Health's own business plan says primary care trusts will retain their commissioning role until April 2013 when GP consortia will take over.
But Mr Clegg said if the consortia were not ready by that deadline they would not be given new powers.
Those who have been promoting this policy would be extremely reluctant to let the timetable slip. They have said practices covering nearly 90% of the population of England have already come forward so they can directly commission services.
Lib Dem MPs may well seek to slow this process.
Among the amendments drawn up by the former Lib Dem MP Evan Harris are changes to the way the health secretary's job is defined and what services should be provided.
Voters' verdict
In both cases Mr Harris believes current safeguards risk being downgraded.
A clear list of demands from the Lib Dems will not prove wholly unwelcome in the Department of Health.
Some there have bemoaned the number of those demanding U-turns and fresh directions without explaining what exactly they want amended.
It is clear changes will be made.
But some Lib Dems harbour deeper doubts, fearing the NHS reform programme will fail to prove any more efficient or effective than the current arrangements.
As amendments are announced, expect to hear some Lib Dems explaining that they forced an important rethink.
But they know that if the benefits the health secretary confidently expects fail to materialise, they - alongside the Conservatives - will be held to account by voters.