English local elections: Tory challenge to hold gains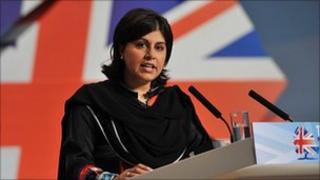 The Conservatives control more councils in England than all the other parties put together.
Not surprising, perhaps, as the last time the seats up for grabs on 5 May were contested, in 2007, it was the dying days of Tony Blair's premiership and the Tories were on the crest of a wave of popularity.
The question facing the party, as polling day nears, is: Can they defend this position, or even improve on it?
Some 5,000 of the party's 9,300 seats are being contested, across 151 councils.
The Conservatives, after almost a year in power in coalition with the Lib Dems at Westminster, could have their work cut out hanging on to them all.
Labour is determined to turn the elections - the first big test of public opinion since the coalition was formed - into a referendum on government spending cuts.
Tory activists may be hoping that more of the criticism will stick to their Lib Dem counterparts - but this is not a view you will hear from the party leadership at Westminster, in public at least.
Prime Minister and Tory leader David Cameron - like Lib Dem leader and deputy prime minister Nick Clegg and Labour leader Ed Miliband - has been doing his best to enthuse his party's grassroots activists, who may, like voters, have been lulled into torpor by the extended Easter and Royal Wedding break.
Mr Cameron told activists on a visit to the North East of England: "I know there are a few distractions. There's the weather and the wedding, but we have to stay focused."
Council tax
That focus has been on Labour's suitability for running town halls.
Communities Secretary Eric Pickles has accused Labour councils of "shroud waving" over spending cuts - making as much noise as possible about job losses and services in order to embarrass the coalition.
There have even been dark mutterings about Labour councils' reductions in services being "politically motivated". These allegations have been strenuously denied.
The Conservatives have singled out large Labour-run authorities such as Manchester, Nottingham, Liverpool, Islington and Hackney for special criticism over alleged waste.
Mr Cameron argues his party offers the best value for money and can protect services during an era of cuts, which he says are necessary to deal with the budget deficit left by Gordon Brown's government.
This is denied by Labour, which is portraying itself as the voice of families being affected by the cuts.
Immigration spat
The Tory campaign, overseen by party co-chairman Baroness Warsi, has made much of the fact that council tax will be frozen this year in most parts of England, after pressure from the government, contrasting this with rises under Labour.
The party also faces the tricky dilemma of how to handle the Lib Dem issue.
The two coalition partners are acutely aware that they must allow their activists to battle it out with each other on the doorstep - it is a crucial motivational tool and, in any case, the two parties have a very different agenda on many local issues.
But the party will also have to ensure that any wounds that are opened up at a national level - such as the spat between Vince Cable and David Cameron over immigration or the increasingly bitter divisions on the Alternative Vote referendum, which takes place on the same day - do not damage the coalition beyond repair when all the votes have been counted.
The last time the seats up for grabs on 5 May were contested, the Conservatives gained more than 900 seats and surpassed the psychologically important 40% share of the national vote - better than they achieved at last year's general election.
'Tough decisions'
This time round the party is within one seat of gaining 12 councils, including Bath and North East Somerset, Warwick, Woking and Worcester.
The required change in places like Brighton and Hove, Scarborough and Bassetlaw is not much bigger.
The Tories' most at-risk councils are North Devon, North Dorset, South Cambridgeshire and Maidstone, in all of which the Lib Dems are their main rivals.
Particularly interesting will be the 186 seats the Tories are defending across the 36 metropolitan boroughs, three of which they control: Dudley, Trafford and Walsall.
On a visit to the north-west of England Mr Cameron went out of his way to praise Trafford: "Yes, they've faced some incredibly tough decisions - and like every council they've got to work harder than ever to deliver more for less.
"But by cutting back office, sharing services, by binning vanity projects - even by selling the mayor's personalised number plate - they're making millions of pounds' worth of savings this year."
Mr Cameron will be hoping his promise of common sense, value-for-money politics for a time of austerity, gives his party as much appeal as it enjoyed four years ago.