Lib Dem activists 'blinded by government'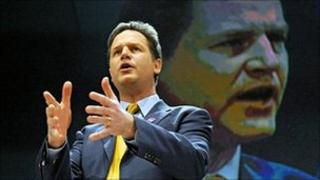 Members of the Liberal Democrats' ruling federal executive committee have told the BBC some in the party are still "blinded" by the shock of being in government, and some of the party's activists are "natural opposition people".
It comes as the party prepares to enter the final week of campaigning in the English local elections and national polls in Scotland and Wales, amid fears it could see many of the advances it has made in recent years wiped out.
Party strategists will be hoping the party's core grassroots support has not been demoralised by national opinion polls suggesting it could be facing electoral oblivion next Thursday.
Stan Collins, a councillor who is involved in campaigning in Cumbria, criticised leader Nick Clegg for "cosying up to David Cameron" and "blurring the lines" between the Conservatives and the Lib Dems.
Another councillor, from the South of England, said the deputy prime minister needs to be more like Chris Huhne, who they said has a "robust style of politics".
The energy secretary has launched a stinging attack on the Conservatives, threatening court action over claims made in the alternative vote campaign.
Speaking about his party leader, Mr Collins, a member of the federal executive committee, which has the final say over Lib Dem policy, said: "There is a feeling he should be pressing a bit more...because it's more difficult to put your foot down later."
'Pragmatic'
Although the coalition government is nearly a year old, he claimed some in the party are still "blinded" by what happened after the general election and the shock at being in government is still limiting their ability to function effectively.
One of the new intake of Lib Dem MPs, Tessa Munt, said this was "complete rubbish".
She said she was "pragmatic" about what the government has achieved and where it is going, almost 12 months on.
It would be ridiculous for party members who found themselves in government to say "what do we do now? I am not ready now," she added.
Mrs Munt, MP for Wells, said Mr Clegg was a "good leader" - rejecting claims that he needed to be more robust in his leadership style.
"I don't think Nick needs to change at all actually," she told BBC News.
'Last rattle'
At an English local election campaign event last week, a Lib Dem activist urged Mr Clegg to have a public row with Prime Minister David Cameron, to show people his party has not been subsumed by the Conservatives in government.
The deputy prime minister used a newspaper article to launch an attack on Conservatives in the No to AV camp, saying their campaign was based on "lies" and their resistance to changing the voting system was the "last rattle of a right wing elite".
Lib Dem peer Lord Razzall, who was in charge of the party's election campaigns for four years and is also a member of the federal executive committee, said the appearance of "cosying up" is part of an 18 month strategy to show voters that the coalition was viable and credible. He said they are still in that phase.
One of the senior councillors on the committee also told the BBC that some in the party "haven't got the confidence" to promote Lib Dem successes in government, adding that there is a "small core who are natural opposition people".
'Shout a lot'
Lord Razzall agreed that there were some in the party, at a grassroots level, who may struggle with the demands of government.
The Lib Dems, and their predecessor parties, were out of national government for almost 90 years before last year's general election.
Lord Razzall said the party does "shout a lot" about its achievements but he said there is a "conflict between wanting to prove to voters that the coalition is credible and united, and trumpeting our achievements".
A senior source who is very close to the deputy prime minister told the BBC that the Lib Dems face a balancing act as the coalition matures, because they want to show voters "a clear demonstration of what we are achieving and that need increases as time goes by".