Libya: Cameron 'would consider' arming rebels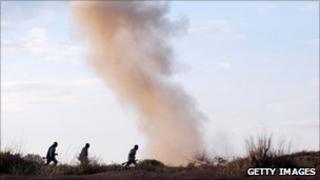 Prime Minister David Cameron has said he would consider arming rebels in Libya, as pressure is stepped up on Muammar Gaddafi's regime.
He told US network CBS that giving anti-Gaddafi forces better communications equipment had helped protect civilian lives.
When asked if the UK might arm them "in a more significant way", he said: "I wouldn't rule that out."
But Downing Street said there were currently no plans for such action.
'Back foot'
During a TV interview with the US broadcaster, Mr Cameron said: "What we have done so far is we've helped the rebels, in line with the UN resolution 1973, to protect civilian life by giving them better communications equipment.
"But when you say, it's been six weeks and - they haven't made progress, six weeks ago we were looking down the barrel of a massacre in Benghazi.
"And I would say we've already prevented that and we have taken good steps to turn up this pressure and I think the pressure needs to be turned up even further."
However, a Downing Street spokeswoman said: "Everything that we do or potentially could do has got to be within the remit of the UN resolution and the prime minister is very clear on that."
She refused to be drawn on press reports that government lawyers had advised ministers that the resolution did not allow the training of rebels or helping them to plan military missions.
Speaking at a press conference at the Pentagon on Wednesday after meeting US counterpart Robert Gates, UK Defence Secretary Liam Fox said Colonel Gaddafi was "on the back foot".
He said: "We have seen significant progress made in the last 72 hours with Gaddafi's forces losing their grip on Misrata.
"And we have received reports of under-age soldiers and foreign mercenaries being captured - this underlines the regime's inability to rely on its own security forces."