Cameron defends Murdoch executive meal during BSkyB bid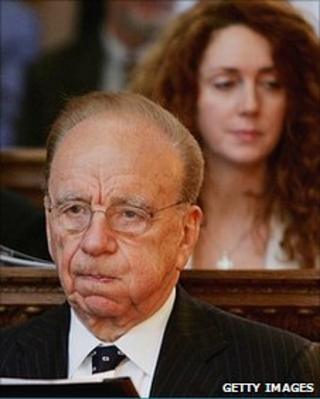 David Cameron has defended his decision to have dinner with a top executive of Rupert Murdoch at a time the government was deciding whether to approve the tycoon's bid for broadcaster BSkyB.
He was criticised for dining at the home of Rebekah Brooks, chief executive of News International, last December.
The PM said politicians had dinner with senior media figures "all the time".
And he said he had "deliberately excluded" himself from any involvement in the decision regarding BSkyB.
Mr Murdoch's attempt to take full ownership of broadcaster BSkyB became mired in controversy at the end of last year.
Vince Cable - who as Business Secretary had the final say on whether to approve the deal - was stripped of his powers after being recorded telling undercover journalists he had "declared war" on the tycoon.
The prime minister handed responsibility for the issue to Culture Secretary Jeremy Hunt.
Mr Hunt has since said he is minded to approve the deal without referring it to the competition authorities if Mr Murdoch's News Corporation - which currently owns 39% of BSkyB and controls News International - gives certain undertakings.
Chief among these is that Sky News should be spun off as a separate company - with an independent chairman and board.
'No involvement'
Asked about the issue, Mr Cameron told Radio Four's Today that the culture secretary had carried out his role "entirely properly" and made his decision on the basis of the evidence in the case.
Mr Hunt had not consulted with him before deciding what to do, he stressed.
"I have had absolutely nothing to do with the merger proposals which were put forward. I deliberately excluded myself from any part of that decision-making process. The first I knew of it was when the results were announced on the BBC."
Mr Cameron had dinner at the home of Rebekah Brooks, the former editor of the News of the World and her husband Charlie, a columnist and former racehorse trainer, over Christmas - in the aftermath of the row over Mr Cable's comments.
It has been widely reported that James Murdoch - the former BSkyB chief executive and chairman of News Corporation's European and Asian operations - was also present at the dinner. Labour's shadow culture secretary Ivan Lewis has suggested the dinner, in the middle of a "quasi-judicial process" raised "serious questions" about Mr Cameron's judgement.
Asked whether the dinner was inappropriate given the political sensitivity of the proposed takeover, the prime minister said "no" and argued it was "ridiculous" to suggest the meeting had had any bearing on the government's handling of the issue.
"Party leaders and prime ministers have lunches and dinners with editors, journalists, proprietors all of the time," he added.
"The person in question is married to someone who is a very old friend of mine. I even occasionally meet people who work for the Guardian or the Independent or the BBC or whatever."