Campaign for English council elections in final stages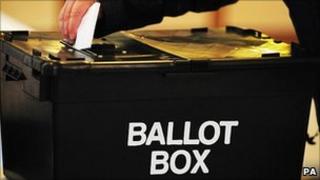 Campaigning is entering its final stages ahead of Thursday's council elections across England.
Labour leader Ed Miliband has urged voters to "send a message" to the government that they feel "utterly betrayed" by their policies.
Deputy Prime Minister Nick Clegg said Lib Dem-controlled local authorities had protected services that Labour and Conservative councils had cut.
More than 9,500 seats in 279 councils across England are being contested.
The Conservatives are defending about 5,000 seats, which were last contested in 2007. Labour and the Lib Dems are fighting to hold onto about 1600 and 1800 seats respectively.
'No mandate'
Among the 36 metropolitan councils electing a third of their seats are Birmingham, Manchester, Liverpool and Sheffield. In addition, elections will be held in 49 unitary authorities and 194 district councils.
The campaign has been dominated by the impact on council services of government spending cuts.
Labour, who are hoping to make substantial gains on their performance four years ago, have argued that their councillors will be the "first line of defence" against cuts to council budgets.
In a press conference, Mr Miliband said the government had "no mandate for front-loaded cuts to local council budgets that go too far and too fast".
"As I have gone round this country, I have met many people who say they feel utterly betrayed by this government," he said. "These elections are an opportunity to vote for a different direction."
On a campaign visit in Surrey, Mr Clegg said he was "immensely proud" that his was "the only party" which had not slashed local services.
"Not a single Liberal Democrat council has closed a single Sure Start [children's] centre," he said. "Not a single Lib Dem majority-controlled council has closed a single library - unlike any other party."
Referring to the campaign to switch to the alternative vote system, Mr Clegg added: "And I am very proud of the fact that, in government, it's the Liberal Democrats who have been pushing the case for a better, fairer way of doing politics."
The Conservatives have said that while local authorities are facing difficult decisions, many have demonstrated that they can do "more for less" by cutting waste and sharing services.
'Solid improvement'
Other parties, including the UK Independence Party, the Green Party and the BNP, are also hoping to get a boost in the polls.
UKIP leader Nigel Farage said the party, which currently has just 19 councillors, was putting more effort into the campaign this year than at previous polls.
"I am confident that, in this year's elections, we have the highest number of candidates and I am confident we are going to make some significant gains," he told BBC Radio 5 live Breakfast.
BNP leader Nick Griffin denied their support had "collapsed" at last year's elections - when it lost all 12 of its seats on Barking and Dagenham council - and said the party had focused this campaign on measures to cut crime and boost school discipline.
"We had the best general election we've ever had in the last election. It wasn't as high as some people's expectations and hopes were but it was a solid improvement," he told the same programme.
The Greens hope to take control of Norwich and Brighton councils and boost their representation in Bristol among other cities by stressing their opposition to spending cuts and support for a living wage, public transport and greater recycling.