Vote 2011: Greens gain English council seats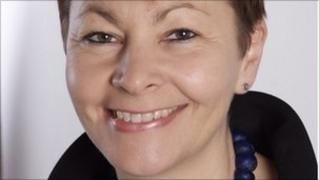 Green party leader Caroline Lucas said there is now a sense that the Greens are a real alternative, after gains in the English local elections.
Greens gained 23 seats across England, and lost 2, bringing its total number of councillors to 61.
Its biggest win was in Brighton and Hove where it gained 10 seats to reach 23, but remains five short of a majority.
They also won a further seat in Norwich, bringing its tally to 15.
In Brighton and Hove, the Conservatives dropped 8 to 18, Labour remained at 13 and the Lib Democrats lost their single seat.
Ms Lucas said the long presence in the area was probably a factor: "I don't think there's anything actually intrinsic about Brighton and Hove.
"I think it is simply that we've had a strong presence here for many years. We've had councillors here since 1996, people have seen Green policies in action, they like what they see, and they want more."
Confidence
She said the numbers in Norwich were encouraging too.
"The challenge, of course, is to scale this up and to spread it out more widely."
Ms Lucas became the first Green MP elected to Westminster when she won Brighton Pavilion last year.
"There really is a sense now that the Greens are a real alternative and once you get that first foot in the door in Parliament, that obviously gives us more credibility and people have more confidence in voting Green."
The party fielded 1,600 candidates on 5 May.
Ms Lucas said the voting system did not favour smaller parties, which was why the party had backed switching to the alternative vote - although the party has traditionally favoured a more proportional electoral system.
The Green Party leader argued that electoral change was still a possibility despite the public rejecting the alternative vote in Thursday's referendum.
"There are many people that want to see a very different electoral system.
"AV didn't get the public's imagination but that doesn't mean the majority of people don't want to see something different in this country," Ms Lucas told BBC News.
The Scottish Greens gained one seat and now have two members of the Scottish Parliament.
In Wales, there was no breakthrough for either the Green Party or UKIP, who had each hoped to secure an assembly member through the regional list vote.