William Hague welcomes EU sanctions on Syrian officials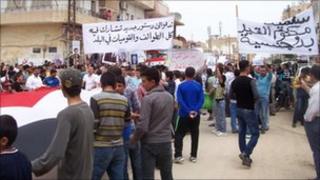 UK Foreign Secretary William Hague has welcomed an EU move aimed at halting Syria's crackdown on protesters by imposing sanctions on the regime.
Mr Hague said the EU-wide move to freeze the assets of up to 14 government officials sent a "clear message" to the leadership in Damascus.
The officials will also be banned from travelling anywhere in the EU.
More than 500 people are thought to have been killed since mid-March as the security forces try to quash dissent.
The sanctions will come into force later this month after being formally adopted by heads of government.
Mr Hague said he "strongly supported" the agreement to impose tough sanctions on those responsible for the violence in Syria and the UK had been "at the forefront of pressing for the EU to accelerate its response".
"The EU is sending a clear message that we will act against those who brutalise peaceful protesters and seek to repress their legitimate aspirations for reform.
Humanitarian teams
"The Syrian regime must realise that attempts to respond to calls for reform with violence are doomed to failure," he said.
No sanctions are expected to be brought against Syrian President Bashar al-Assad.
The EU has also agreed an arms embargo against Syria.
Thousands of people joined demonstrations across the country on Friday.
Protesters have been calling for greater political rights and personal freedoms, while some are calling for the downfall of the regime.
Human rights activists said at least 13 people have been killed in anti-government protests in Syrian cities.
At least six people were killed in Homs, campaigners say, with deaths also reported in Hama. A prominent dissident was reportedly arrested in Damascus.
President Assad's government has said it is taking decisive action against terrorists and criminals.
The UN meanwhile said Syria had agreed to allow its humanitarian teams into the country.