Bid to prevent ministers statistics being 'spun'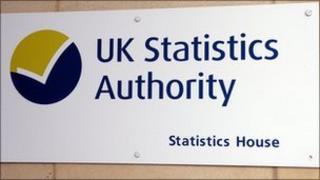 Ministers should be banned from seeing official statistics a day before their release to prevent them being spun, the UK Statistics Authority has said.
Its chairman, Sir Michael Scholar, said even if figures were not manipulated in the government's favour, the practice damaged public faith in the numbers.
In opposition, Tories backed UKSA calls for the 24-hour pre-release period to be cut to a maximum of three hours.
But ministers said a review suggested changes would affect accountability.
The Conservatives ruled out any cut within weeks of taking power last year.
Francis Maude, Minister for the Cabinet Office said: "Government has listened to the evidence on pre-release access to statistics and decided to maintain the existing arrangements.
"The review has clearly shown that reducing the amount of time given to prelease access from 24 hours would impact on government's ability to be accountable to the public at the time the statistics are released."
'Credibility damaged'
Sir Michael, the outgoing head of the UKSA, said he was "alarmed" that 50 people across Whitehall had access to certain figures, such as the UK's inflation rate, 24 hours before official release.
He said he could not understand why these people - ministers, civil servants and political advisers across several Whitehall departments, including the office of Deputy Prime Minister Nick Clegg - needed to see the inflation figures in advance of official publication.
He has regularly rebuked ministers, including premiers David Cameron and Gordon Brown, for using misleading figures and other breaches of statistics rules.
And he highlighted recent allegations that Chancellor George Osborne had broken rules by briefing the cabinet on growth figures before they were officially available.
"I do not believe he did but there were a number of people who thought he had," he said.
Sir Michael called for the end to the advanced seeing of statistics while giving evidence to the Commons public administration committee.
He said: "My view is that we should get rid of it altogether. I have never understood a single reason why we need it.
"It is damaging to the credibility of the statistics that are produced by government."
He added that "even if there never is any spinning going on, the public think that because ministers have these figures it is likely that there is manipulation".