UK must hold nerve on spending cuts, says Nick Clegg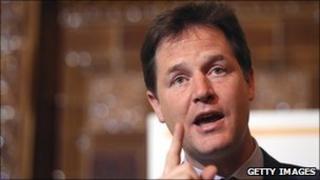 Nick Clegg has urged business leaders to hold their "nerve" and back spending cuts programme in an effort to turn the UK economy around.
The deputy prime minister insisted on "no blinking", adding that the coalition "has a plan to restore stability and we will stick to it".
He told the Confederation of British Industry's annual dinner that "steady" growth was the aim.
But Labour argues that coalition cuts are damaging the economic recovery.
UK gross domestic product increased by 0.5% during the first quarter of this year, following a 0.5% contraction during the final three months of 2010.
'Sound finances'
In his speech Mr Clegg said: "The economy is out of the danger zone. But we need to hold our nerve. That means no blinking on deficit reduction.
"The government has a plan to restore stability and we will stick to it."
Mr Clegg added: "I want to explain how Liberal Democrats and Conservatives can share this agenda, despite our different economic traditions. We may differ on the nature and shape of the state, but we agree its finances must be sound.
"Tackling deficit is a necessary response to an immediate emergency. It is the glue that binds this coalition together.
"If we get this right, if we build the new, liberal economy I have described, we can begin to turn the page on an era of short-termism in our economy: an era that saw the return of boom and bust, driven by a banking system that risked everything for higher profits while households racked up huge private debt and the nation was run recklessly into the red."
He also said: "We can lay the foundations for an economy where people invest rather than simply consume, where stability is as valuable as risk, where people borrow responsibly; and their governments do too."
CBI president Helen Alexander urged ministers to "lighten the load" of regulations on business and called for more "clarity" on taxation.
She told guests at the dinner: "There's much to applaud in the approach your government has taken. I know, though, from talking to members in every region of the country, that there's masses still to do on implementation."
For Labour, shadow chief secretary to the Treasury Angela Eagle said that "by making a political decision to cut too far and too fast, this Conservative-led government has choked off the recovery".