Nick Clegg to oppose NHS competition regulator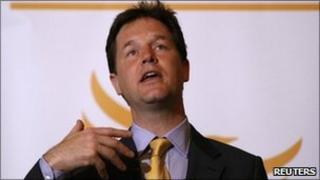 Nick Clegg will oppose the idea of a regulator promoting competition in the health service in England, a key part of planned NHS reforms.
It places the deputy PM in opposition to Health Secretary Andrew Lansley who wants more competition to cut prices.
Mr Clegg also criticised David Cameron for declaring his love for the NHS while taking advice from people talking up the potential for private profits.
Labour said Mr Clegg was only interested in saving his party.
BBC deputy political editor James Landale said Mr Clegg's intervention, in a meeting with Lib Dem MPs and peers, marked an escalation in negotiations with his Conservative partners over the Health and Social Care Bill which is currently on hold.
It will also be seen as a rebuff to the prime minister who used his speech on Monday to try to assert his political authority and ownership over the changes being made to the bill.
Addressing Lib Dem MPs and peers on Tuesday night, Mr Clegg agreed that Monitor should have a duty to push NHS collaboration rather than competition.
'No mercy'
He has signed off a policy document, obtained by the BBC, which states that Monitor should not be established as an "economic regulator" and should instead promote and protect the interests of the patient.
Mr Clegg told party colleagues: "People get confused when one day they hear politicians declare how much they love the NHS and the next they hear people describing themselves as government advisers saying that reform is a huge opportunity for big profits for health care corporations."
This was a reference to the prime minister's speech in which he said it was his love for the NHS that drove him to change it, and a former NHS official now working for accountants KPMG, Mark Britnell, who is part of a group of people advising the government on NHS reforms.
Mr Britnell was quoted as saying last October that the government's health reforms would be "a big opportunity" for private health firms who would show "no mercy" to the NHS.
But Mr Clegg hit back, telling his colleagues he would "never let the profit motive get in the way of the essential purposes of the NHS".
"There must be no change in the way competition law operates in our NHS. No to establishing Monitor as an economic regulator as if health care was just like electricity or the telephone and no to giving anyone in the NHS a duty to promote competition above all else."
Mr Cameron was challenged about Mr Britnell at prime minister's questions, when Labour MP Ian Lavery asked him why he had not been sacked as a health adviser.
The prime minister said he was "puzzled" by reports about Mr Britnell being his adviser because "I have never heard of this person", before adding that he had discovered Mr Britnell was an adviser to the previous Labour government who helped develop its NHS plan in 2000 "which increased the role of the private sector".
'This is a veto'
Professor Steve Field, the former chairman of the Royal College of GPs who is leading the overall consultation, told the Guardian this week that plans to make enforcing competition in the NHS Monitor's primary role should be scrapped.
Conservative health minister Simon Burns told BBC Radio 4's Today programme that Mr Clegg's remarks were "part of the process of gathering ideas to see how we can strengthen the bill", during the current listening exercise.
When asked about Mr Clegg's stance at an event in London where he was addressing health staff, Mr Lansley said that the deputy prime minister was "absolutely right".
"Competition is a means to an end not an end in itself."
But he said he did not believe the bill changed competition law, however he said if it benefited patients he would "entertain" changes to the legislation.
But former Lib Dem MP Dr Evan Harris said Lib Dem MPs and peers would not vote for things which were not in the coalition agreement: "They will not vote for Monitor to be an economic regulator, so this is a veto, it is not a contribution... this is making very clear that the Liberal Democrats are stopping this."
The Lib Dems' policy document, which Mr Clegg signed, says: "We cannot treat the NHS as if it were a utility, and the decision to establish Monitor as an "economic regulator" was clearly a misjudgement, failing to recognise all the unique characteristics of a public health service, and opening us up to accusations that we are trying to subject the NHS to the full rigours of UK and EU competition law.
"I have come to the conclusion that we must not make this change."
For Labour Shadow Health Secretary John Healey said people "can't trust Nick Clegg on the NHS".
"He only wants to save his party. For the past 12 months, the deputy prime minister has backed the Tory changes to the hilt and Lib Dem MPs have voted for it at every stage in Parliament. "The Lib Dems are now making arguments on the NHS that Labour has been making for months.
"It's only since his party's disastrous showing at the local elections that Mr Clegg has started back-peddling."
Following poor results in this month's devolved elections and local elections in England, Mr Clegg promised more "muscular liberalism" and to make the Lib Dem influence on the government "more visible".
Backbench Conservative MP Peter Bone said Mr Clegg had signed off the reforms and voted for them: "Why now is he changing his mind and what's happened to collective responsibility?
"If it was a Tory minister that was opposing government policy in such a way he would undoubtedly have been fired."
He added: "If our health service is being held back for party political reasons to shore up Nick Clegg's leadership of the Liberal party then that's an absolute disgrace."