Police to investigate Huhne speeding points claims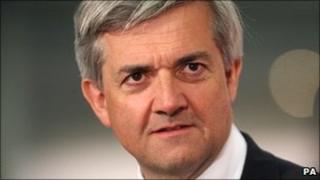 Police will be speaking to "key individuals" over allegations cabinet minister Chris Huhne tried to evade punishment for speeding.
The energy secretary has been under pressure since his ex-wife suggested someone close to him took licence points for him after a speeding offence committed on the M11 motorway in 2003.
Police said there were "many lines of inquiry to be taken".
On Monday Mr Huhne dismissed the allegations as "simply incorrect".
Detective Superintendent Tim Wills, of the Kent and Essex Serious Crime Directorate, said: "There are many lines of inquiry to be taken and the team are still working to establish if an offence has been committed.
"Obviously, this will entail speaking to key individuals identified by the enquiry team. It would not be appropriate to release any more information prior to progressing these lines of inquiry."
'In trouble'
Det Supt Wills was tasked with looking into the allegations after Labour MP Simon Danczuk lodged a formal complaint with police against Mr Huhne, MP for Eastleigh.
This came after claims surfaced in newspaper stories following an interview with his estranged wife Vicky Pryce.
Before the police investigation was announced, Conservative Justice Secretary Ken Clarke told BBC Radio 5 live: "I have no idea whether there is anything to prove him wrong.
"I realise he's in trouble and I hope somebody sorts out whether it be true or not. But I've known him for years, long before he was a colleague, and he insists it is untrue, and at the moment I have no reason to disbelieve that."
Mr Clarke added: "The cabinet has not discussed it. He does not need the full backing of the cabinet unless and until anyone can undermine him."
Earlier, Downing Street indicated that David Cameron still had confidence in Mr Huhne.
The prime minister's spokesman said: "The position on Chris Huhne has not changed. He denies all the allegations on the issue."
Mr Huhne has contacted Essex Police offering to help them with their inquiry, his spokeswoman said.
There have been doubts about whether records from 2003 would still survive, but an Essex Police source has told the BBC that "they think there may be" evidence somewhere of the offence in question.
A spokesman for the Association of Chief Police Officers said it was "very, very unlikely" that a record of a speeding offence eight years ago would still be held on police systems, but if information emerged from elsewhere - for example, court or local authority records - then police would use it.
HM Court Service said individual courts kept records of speeding offences they had dealt with, but it was up to each to decide how long those were retained.
Chelmsford Magistrates Court, which was reportedly involved in Mr Huhne's case, said its paper files were destroyed after three years, but records of cases dating back to 1898 were accessible via archive Police launch Huhne points probes.