Time not right for Brown IMF bid, says Lord Myners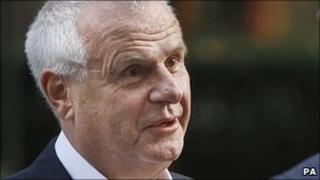 A former colleague of Gordon Brown has said the time is not "right" for the ex-prime minister to become the head of the International Monetary Fund.
Mr Brown's aides are reportedly campaigning for him to get the job following the resignation of Dominique Strauss-Kahn amid sex assault claims.
But Labour ex-City minister Lord Myners said a "non-European" should be chosen.
Prime Minister David Cameron has already said Mr Brown might not be the "best person" to run the IMF.
Mr Strauss-Kahn resigned after his arrest over an alleged sex assault on a hotel maid in New York. He denies the allegations but said he felt "compelled" to resign in order to devote his attention to "proving my innocence".
Mr Brown, who was chancellor for 10 years before becoming prime minister in 2007, returned to the Labour back benches after the party lost power in last year's general election.
His global profile rose during efforts to alleviate the effects of the financial crisis while in Downing Street.
'No shortage'
Mr Brown took on an advisory role at the World Economic Forum last month and there had been much speculation he could take on the IMF job, which Mr Strauss-Kahn was expected to vacate anyway in order to run for the French presidency.
Mr Cameron's comments appeared to kill off his prime ministerial predecessor's chances, as backing from a candidate's national government is seen as prerequisite for selection.
But the Times reports that Mr Brown's aides are continuing the campaign for him to get the job, as speculation continues about other international candidates.
Lord Myners, the former M&S chairman who spent 18 months in government when Mr Brown was in Downing Street, told BBC Radio Four's World at One: "There are a number of people who have said that they don't think the time is right for Gordon to put his name forward and I tend to agree that that's right... because I think it should be someone non-European."
He also said: "The best candidate should be appointed regardless of where they come from... There's no shortage of candidates from outside Europe."
A source close to Mr Brown said aides were "not running a campaign" for the IMF job.
But BBC political correspondent Jo Coburn said he had apparently spent a large part of the day taking calls from around the world from international figures offering their support.
One of the priorities for the next IMF managing director will be to deal with Greece's debt crisis and the wider problems within the eurozone.
Lib Dem Business Secretary Vince Cable said he did not want to comment on Mr Brown's chances, but told the BBC: "I think promoting national champions, whoever they are, probably isn't the best way of dealing with this.
"The IMF is dealing with a major economic crisis in Europe. They need somebody very effective and respected.
"Particularly somebody who understands the internal problems of the eurozone. That is probably where the new head of the IMF will come from.
"If it doesn't, someone from the eastern Asian countries who has had a very successful record in economic management."
Other names thought to be in the frame for the IMF job include Singapore's finance minister Tharman Shanmugaratnam, former South African finance minister Trevor Manuel and Kemal Dervis and Turkey's former minister of economic affairs.
The highest-profile potential candidate for the job is France's finance minister, Christine Lagarde.