Commons expenses watchdog to set MPs' salaries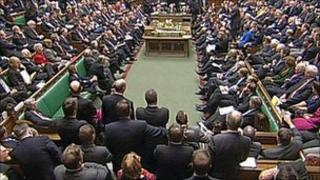 The MPs' expenses watchdog has been given new powers to set their salaries.
The Independent Parliamentary Standards Authority, set up after the expenses scandal, will take over the role from Senior Salaries Review Body (SSRB).
MPs gave up powers to set their own pay in 2008 but they have still had to vote on the recommendations of the SSRB.
It recommended a 1% rise for 2011-12, but following a request from the government, MPs agreed to reject that and take a two-year freeze instead.
Fixing their salaries at £65,738, the move brought MPs into line with the majority of public sector workers, who have had their pay frozen for the next two years.
But the decision angered some backbenchers - some argued they were underpaid and others said they should not vote on their own salary at all.
'Overhaul'
Commons Leader Sir George Young said in a statement on Thursday that the handing over of powers to expenses body Ipsa "finally removed" MPs from any role in setting the level of their pay.
Ipsa also welcomed the move, saying in a statement: "In the past year we have overhauled the MPs' expenses system, and introduced independent regulation and transparency. We will now do the same for MPs' pay.
"This is a significant step towards restoring public confidence in Parliament and we look forward to addressing the question of what an MP should be paid.
"This is not a project we will rush - our approach will be methodical and evidence-based. And, of course, we will give the public a voice when tackling this issue.
"In due course, we will set out more fully our approach and timeline for this work."
Since Ipsa began work last year, some MPs have complained that it is too costly and bureaucratic.
Last week, MPs voted in favour of reviving the dormant Members' Allowances Committee in order for it to review the legislation which set up Ipsa.