Pothole repairs 'could cost £13bn' says Labour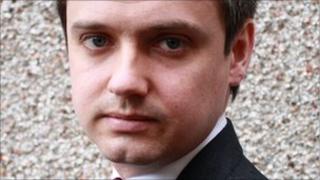 Repairs to potholes on England's roads could cost up to £13bn, the Labour Party claims.
Two harsh winters have caused potholes to increase, and most councils replying to a survey by the party said they had a repair backlog which they could not afford to clear.
Labour said most were reducing maintenance because of spending cuts.
Ministers dispute the findings and blame Labour for the repair backlog.
Of the 152 local authorities with highway maintenance responsibilities in England, 111 responded to the survey between March and May 2011.
Ninety-two percent of those which replied (102 authorities) reported having a backlog of road repairs which they did not currently have the budget to carry out.
Inspections cut
Sixty-three authorities with a backlog were able to give an estimate of the repair bill, saying it came to £5.36bn.
"That would translate into £13.4bn across the country if roads in other areas were in a similar state of disrepair," shadow roads minister John Woodcock claimed.
Seventeen local authorities reported individual backlogs of £100m or more, with three county councils having backlogs in excess of £400m - North Yorkshire, Kent and Devon.
Eighty councils who responded said they were cutting road maintenance budgets in real terms, with some reducing inspections or only filling holes of more than a certain depth.
Mr Woodcock said: "Potholes frustrate road users more than anything and it's clear that the Tory-led government has no serious long-term plan to get our roads back into shape."
He added: "Instead of continually patching up knackered road surfaces with a bucket of tar we need a proper strategic plan for local roads which could save taxpayers' money a fortune in the long term."
In response, Transport Secretary Philip Hammond said that over the next four years the government will be providing more cash for road maintenance than Labour did in the previous four years.
His department said 90% of the backlog had been built up by Labour and disputed the £13bn price tag as being based on too small a sample to be reliable.
The government announced in the Budget in March that English councils will receive "exceptional payments" totalling £200m to deal with pothole repairs following the harsh winters.