Judge clarifies Sir Fred Goodwin anonymity injunction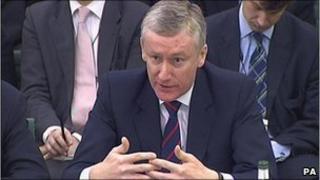 A High Court judge has clarified the limitations of a privacy order relating to ex-Royal Bank of Scotland boss Sir Fred Goodwin.
Mr Justice Tugendhat said the order, which concerns a "sexual relationship", does not stop financial regulators mounting "any sort" of inquiry.
He said the Financial Services Authority, the RBS board or any other regulator remained free to investigate.
Prime Minister David Cameron has said such orders are "unsustainable".
He told ITV1's Daybreak such legal gags were unfair on the press, and the law should be reviewed to "catch up with how people consume media today".
The order was originally made in March.
The privacy order relating to Sir Fred was lifted last week after a peer used the protection of parliamentary privilege to reveal details.
The existence of Sir Fred's injunction had already been made public by an MP using the same protection.
In March, Liberal Democrat MP John Hemming used parliamentary privilege to reveal that Sir Fred had won an injunction - although he gave no details.
Order 'varied'
Mr Justice Tugendhat changed the terms of the order on Thursday following a further intervention by Lord Stoneham, who used parliamentary privilege to name Sir Fred and provide more details in parliament.
Now, during a High Court hearing in London, Mr Justice Tugendhat has clarified the ruling.
He said: "Anybody who thought that the injunction was directed at preventing any sort of investigation, whether by the FSA, any other regulatory body or the board of the RBS, would be wholly mistaken."
In a written explanation of his reasoning, he said that Sir Fred had not opposed the order being "varied" in the light of Lord Stoneham's statement in the Lords earlier on 19 May.
He altered the injunction to allow Sir Fred to be named but said parts of the order preventing the identity of the woman involved or details of the relationship being published would remain in place.
The court heard that Sir Fred, 52, took legal action in March after discovering that the Sun newspaper planned to publish a story about the "relationship".