Tory MEP criticised after defending Clarke in rape row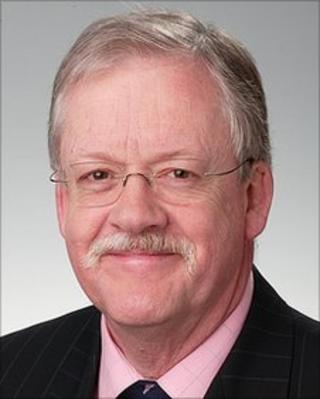 A Tory MEP has been criticised after saying some rape victims "share part of the responsibility" for their attacks.
Roger Helmer said a woman opting not to have sex with her boyfriend after going to bed with him had "established reasonable expectations in his mind".
He also argued Ken Clarke was "unfairly treated" when he appeared to suggest some rapes were worse than others.
The Tories disowned the MEP's comments and said they "did not reflect" the justice secretary's earlier remarks.
Mr Clarke last week faced calls to resign by Labour leader Ed Miliband after he appeared to suggest in a BBC interview that some rapes were more serious than others.
'Different motives'
He later clarified the remarks and apologised if they had been misunderstood.
On Tuesday, Mr Clarke held a private meeting with a rape victim, Gabrielle Browne, who had described the idea of reducing the sentences for offenders who enter early guilty pleas as a "disaster" on BBC Radio 5 Live.
"She went through an horrific ordeal and I was keen to hear her first-hand experience of the criminal justice system," Mr Clarke said. "I promised that I would reflect carefully on our useful discussion."
Mr Helmer, an outspoken member of the European Parliament, defended Mr Clarke in a blog entry entitled "badly phrased but basically right", saying the justice secretary had been "very unfairly treated" by sections of the media.
"While agreeing that rape is always wrong, never defensible, that no means no, he is also saying that the term covers a variety of circumstances and motivations and degrees of culpability and that sentencing policy should reflect that," he wrote.
"Surely this proposition is so self-evident that it is difficult to see what all the fuss is about."
While all rapists deserved to be convicted, the MEP suggested that different "rape scenarios" involved different levels of culpability as far as the assailant was concerned and should incur different punishments.
He differentiated between what he said was "stranger-rape" in which a woman is randomly attacked, raped and left unconscious, and "date rape" in which a woman says no to sex with her boyfriend having got into bed with him but "the man is unable to restrain himself and carries on".
"Whereas in the first case, I'd again be happy to hang the guy, I think that most right-thinking people would expect a much lighter sentence in the second case," he added.
"Rape is always wrong but not always equally culpable."
The MEP then proceeded to make comments which he said would "certainly get me vilified".
"While in the first case, the blame is squarely on the perpetrator and does not attach to the victim, in the second case the victim surely shares a part of the responsibility, if only for establishing reasonable expectations in her boyfriend's mind."
'Outrageous'
The MEP's remarks have been attacked across the political spectrum.
Tory MP Louise Bagshawe said Mr Helmer "speaks for himself alone" while Labour frontbencher Caroline Flint said the remarks were "outrageous" and called on the MEP to retract them.
In a statement, the Conservatives said "this is clearly not the view of the Conservative Party or the UK delegation in the European Parliament and does not reflect the comments made by Ken Clarke".
Five Tory MPs declined to back Mr Clarke in a debate on Monday on plans to halve the prison terms of criminals who plead guilty early on while one called for him to quit so the Conservatives can restore its reputation as a "party of law and order".
Mr Clarke insisted he had no plans to cut sentences for convicted criminals and that judges would still have discretion to set appropriate sentences. He accused Labour of "pathetic" bandwagon jumping.
The proposals, contained in a Green Paper, are still under consideration, but had been backed by Prime Minister David Cameron, the justice secretary added.