Police interview Chris Huhne over speeding claims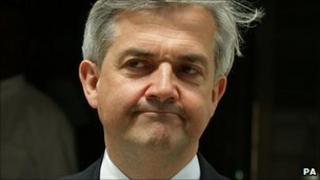 Essex Police have interviewed Lib Dem Cabinet minister Chris Huhne over allegations he tried to evade punishment for speeding.
The police are investigating claims Mr Huhne asked someone to take his penalty points for a 2003 speeding offence.
A spokesman for Mr Huhne, who has previously insisted the claims are "incorrect", confirmed he had helped police with their inquiries.
The police also interviewed Mr Huhne's estranged wife Vicky Pryce.
"Chris Huhne helped the Essex Police with their inquiries today and looks forward to an early resolution of this issue," a spokesman for the Cabinet minister said.
The energy secretary and MP for Eastleigh is currently involved in divorce proceedings from Ms Pryce, his wife of 25 years, whom he left for another woman last year.
In a statement, Ms Pryce's solicitor Sarah Webb, said: "Vicky Pryce met with Essex Police today as part of their inquiry.
"She continues to do what is necessary in respect of the inquiry but in view of the fact that it is on going it is not appropriate for her or anyone on her behalf to comment further."
'Total unlimited denial'
The police launched the investigation into the speeding claims - which would constitute a criminal offence - after a complaint by a Labour MP earlier this month.
Mr Huhne has said the allegations, which first surfaced in a number of national newspapers, had been "made before and been shown to be untrue".
Following newspaper suggestions on Sunday that he was about to change his position - and concede he may have been driving his car on the day it was clocked speeding - his spokesman said his "total unlimited denial" remained in place.
Downing Street has said the prime minister has "full confidence" in Mr Huhne.
Mr Huhne is one of five Lib Dems in the cabinet and narrowly lost out in a leadership contest against Nick Clegg in 2007.