Vince Cable 'clarifies' Scotland corporation tax view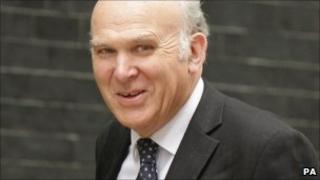 Business Secretary Vince Cable appears to have backtracked after seeming to support calls to devolve control over corporation tax to Scotland.
The SNP is lobbying for devolution, but Chancellor George Osborne has stated his opposition to any such move.
In an interview with the New Statesman, Mr Cable said the "logic" of devolving corporation tax was "irresistible".
He later issued a "clarification" in which he said he "fully supports" the government's position.
Corporation tax is the tax levied on company profits by the Treasury.
In his first meeting with Mr Osborne since the SNP won a majority in the Scottish Parliament, First Minister Alex Salmond asked for the power to choose the level at which it is set.
The Scotland Bill, currently going through Parliament, devolves powers over a number of other areas proposed by the Calman Commission, including income tax and public borrowing.
'Very tricky area'
In the magazine interview, Mr Cable was asked whether Scots should be free to set their own level of corporation tax.
He replied: "I think the logic of that is irresistible, if you have a devolved system.
"If you want power, then you have to have the responsibility, and the responsibility goes with making fiscal choices, and fiscal choices involve not just spending a block grant, which is what happens at the moment, but making decisions on how to raise revenue."
Sources close to the business secretary later admitted he had been "slightly unclear" and released a statement confirming he did support the Scotland Bill.
"It is a far-reaching devolution of fiscal powers that will empower the Scottish Parliament and make it more accountable to the Scottish people," Mr Cable said.
"On the issue of corporation tax, I also made clear that this is a very tricky area which, as Calman highlights, involves a lot of problems.
"Calman rejected the devolution of corporation tax in light of expert advice and evidence from a range of stakeholders, including the CBI. That's why the government has - rightly - chosen not to include it in the Scotland Bill."
A spokesman for the Scotland Office said the position of the UK government remained unchanged.
Mr Osborne has said he will consider Mr Salmond's proposals for greater powers once a separate consultation about devolving corporation tax in Northern Ireland is complete.