Cameron and Clegg's Sunday night phonecalls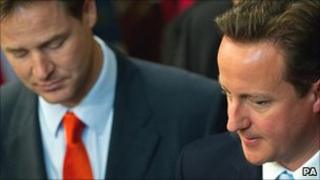 Prime Minister David Cameron and his deputy Nick Clegg make key decisions about government policy in a regular Sunday evening phone conversation.
A review of the workings of the coalition, which was carried out by the Constitution Unit, has revealed the two men speak ahead of a weekly meeting.
Researchers have interviewed 90 people so far, including senior Whitehall civil servants and politicians, for the report 'Inside Story: How Coalition Government Works.'
The man leading the review, Professor Robert Hazel of University College London, told the BBC: "where there's a tricky coalition issue it's resolved mainly in an informal forum, classically at the top, every Monday morning".
Party splits
In addition to the prime minister and deputy prime minister, that meeting is also attended by senior officials and chiefs of staff. Professor Hazel also claimed that the main splits in the government are not on party lines.
He told the Today programme: "The main splits are not between the two coalition parties. When there's a big row between two cabinet ministers it's much more often between two ministers of the same party."
He cited recent disagreements between the Conservative Home Secretary Theresa May and her party colleague, Justice Secretary Ken Clarke, as well as rows between Liberal Democrats Chris Huhne and Vince Cable.
It's clear that significant party political disagreements persist in some quarters though. The government's controversial plan to change the NHS in England has exposed the difference of opinion between Nick Clegg and the Conservative Health Secretary Andrew Lansley.
The prime minister may share some of those concerns but it is his Liberal Democrat deputy who has lead the charge against the drive for further competition, which was championed by the health secretary.
In spite of the Sunday evening phone conversations between the government's two most senior members, Professor Hazel said the coalition has brought back a more formal decision making process, in contrast to what was dubbed the "sofa government" of Tony Blair.
"There's been a revival of cabinet government" he said, adding "cabinet committees that never met under the previous government are now meeting regularly."