Lords demand 40% turnout for EU referendums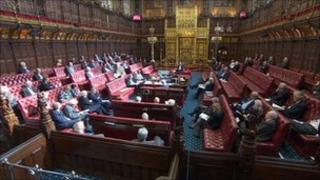 The government has suffered a defeat in the Lords over its plans to offer the public a vote on major transfers of power to Brussels.
Peers backed a cross-party call for referendums to be binding only when at least 40% of the electorate takes part.
The vote came in spite of an appeal by Foreign Office Minister Lord Howell who described the idea of a minimum turnout as "highly negative".
A "referendum lock" on new EU treaties was part of the coalition agreement.
The government was defeated by 221 votes to 216, including five Conservative rebels and six Lib Dems.
However, it is likely to seek to overturn the defeat when the Europe Bill returns to the Commons.
'Lack of interest'
The amendment to the bill was moved by independent cross-bench peer Lord Williamson, a former secretary-general of the European Commission.
He argued that it should be up to Parliament to settle any issue on which there was "a derisory turnout".
"This amendment would bring back a role for Parliament in those cases, and only those cases, where the British public had demonstrated its lack of interest by a very low turnout in a referendum," he said.
Conservative former cabinet minister Lord Forsyth also backed the amendment, citing a similar debate which was held over the alternative vote referendum.
The Lords twice tried to force the government to set a minimum 40% turnout for the AV referendum, but the view of the Commons eventually won out.
Lord Forsyth said: "It is very, very dangerous indeed to get into a position where we have a constitutional innovation which is the concept of referenda which are drop-dead referenda - the moment the vote is cast it becomes enshrined in law and Parliament no longer has a further say on it."
But speaking on behalf of the government, Lord Howell told peers the 40% threshold had a "whole string of disadvantages".
"It leaves them [the electorate] with a dangerous doubt about whether they will be listened to and a lack of clarity about whether their views will count," he said.
Lord Pearson, the former leader of the UK Independence Party, which argues for withdrawal from the EU, also opposed the amendment, saying the public would only re-engage with politics if given a greater say.
"Their decisions, even if only 15% of them turn out to vote, will be very much wiser than those of our failed political class," he added.