Peers claim £6m in expenses in three months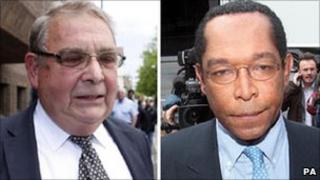 Peers claimed more than £6m of expenses between October and December 2010, according to new figures.
Among those paid were Lord Taylor of Warwick and Lord Hanningfield - both of whom have since been convicted of expenses fraud.
Members of the Lords, who are not paid a salary, can claim an attendance allowance of £300 or £150 a day, plus travel and secretarial costs.
This is the first data published since a new expenses regime was created.
The "clocking in" allowance of £300 - or £150 for those who attend only part of a sitting day - replaced the previous £174-a-night "overnight subsistence" allowance, which was at the centre of most alleged expenses abuses involving the Lords system.
Peers living outside London were entitled to claim the allowance to cover the cost of staying away from their main home while working, yet no definition of a "main home" was supplied in the rules.
Bicycle claim
According to the newly released figures, 25 peers - out of more than 800 - claimed more than £16,000 in the three-month period.
Labour peer and former minister Lord Sewel claimed the most overall, £23,428, and attended 41 of the 49 days on which the House sat. He also worked away from Westminster on 16 days.
A significant portion of his expenses - more than £8,000 - was for travel from his home in Aberdeenshire to Westminster.
Conservative peer Lord Bates claimed the highest amount for attendance alone - £15,450 - for the full 49 days on which the House sat, plus an additional £750 for days working away from Westminster.
Labour's Lord Berkeley was the only peer to claim for riding a bicycle, receiving £14.
Former Tory peer Lord Taylor was jailed for 12 months in May after being convicted of falsely claiming £11,277 in parliamentary expenses.
Fellow ex-Tory Lord Hanningfield is currently awaiting sentence after he was found guilty of falsely claiming nearly £14,000.
Last week, it emerged that former Labour MP Eric Illsley was paid thousands of pounds in expenses - after pleading guilty to expenses fraud.
Illsley resigned as an MP the day before he was jailed, and the expenses watchdog Ipsa said that, under the rules, he had been entitled to claim up until that point.