Changes to NHS plans not about party politics, says PM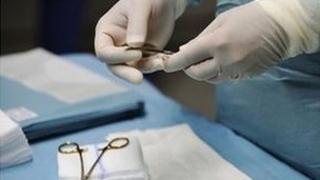 David Cameron has told Tory MPs a rethink of changes to the NHS in England is "not about party politics", amid concerns too many concessions are being made to the Lib Dems.
The PM said there would be no policy change "titbits" to increase support for the plans across the coalition.
But Deputy PM Nick Clegg told Lib Dem MPs that the party's demands had been "handsomely met".
He added that the "right kind of reform" of the NHS was now more likely.
The proposals for the NHS have become an increasing source of tension between the Conservatives and Lib Dems.
Many Lib Dems have complained that handing GPs control of much of the NHS budget and opening up services to greater competition could lead to effective privatisation of services.
At the party's spring conference, members voted to amend what they called a "damaging and unjustified" programme of change.
'Good for Conservatives'
In April - amid fears of a rebellion by Lib Dem MPs and peers, and following criticism from academics and health unions - the government took the unprecedented step of halting the parliamentary progress of the Health and Social Care Bill.
Mr Cameron has already indicated he is willing to make concessions by allowing other health professionals - not just GPs - a say in the spending of funds, while promising competition will be balanced against encouraging co-operation among NHS trusts, charities and private firms.
However, many Tory MPs, who say the health service provides poor value for money and is in need of a thorough reform, are wary of making too many concessions to the Lib Dems.
A source from inside the prime minister's meeting with 143 new Tory MPs said there had been a good atmosphere.
Mr Cameron reportedly publicly praised Health Secretary Andrew Lansley and said any changes to his plans were "not about giving titbits to the Lib Dems" but were "good for Conservatives as well".
They were "not about party politics", he told the MPs.
But at a meeting of Lib Dem MPs, Mr Clegg presented a scorecard of changes to the Health and Social Care Bill called for at his party's spring conference.
'A lot better'
Eleven of the 13 demands - including improving democratic accountability and preventing private firms "cherry-picking" profitable services - had been secured, he said, while alternative solutions had been found to meet the remaining two.
He said: "Our overall political demands - slow the pace of change, don't give preference to the private sector, proper accountablity - all of these things have been very, very handsomely met. It's been a fantastic collective effort."
He added: "The bill is now a whole lot better and will make sure decisions are taken in the best interest of patients."
Mr Clegg said this was still a major reform of the NHS, adding: "We have never been against reform; we've always been in favour of the right kind of reform."
On Monday, the government published a report by the Future Forum, the group of health professionals headed by Dr Steve Field, the former president of the Royal College of GPs.
It recommended that the overhaul be introduced more gradually and for there to be greater balance between competition and co-operation within the NHS.
For Labour, shadow health secretary John Healey called the report a "demolition job on the Tory-led government's misjudgements and mishandling of the NHS over the past year".
He said: "The big test is for David Cameron and whether he will fundamentally rewrite his NHS legislation and give up the long-term Tory plan to turn the NHS into a full-scale market.
"We will judge the prime minister on what he does, not what he says."
The government will outline its response to the Future Forum on Tuesday.
Among details seen by the BBC, proposed "consortia" of GPs, to be given greater power to purchase goods and services, will be replaced by "clinical commissioning groups".
These are expected to include hospital doctors and nurses, as well as GPs. However, many of these groups may not, by April 2013, be granted powers over budgets and will instead be "shadow groups".
The government is expected to publish a series of amendments to its bill next week and still hopes to get the legislation onto the statute books by the middle of July, when Parliament goes into recess for the summer.