Let workers jump council housing queue - Ed Miliband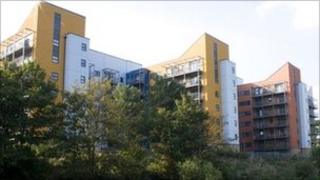 People who work or volunteer should get priority on council house waiting lists, Labour leader Ed Miliband says.
In a speech on future policy, he said they should be able to jump the queue ahead of benefits claimants.
A similar scheme operates in Manchester and Mr Miliband said he was aiming to reward those who "give something back".
The Tories accused the party of a U-turn but former Labour minister Frank Field said it was setting out a new "position for the next election".
In his speech Mr Miliband said he was outlining his vision on "fairness".
He said: "One area where people's sense of fairness is under threat is social housing.
"There is a terrible shortage of social housing in this country.
"It will be one of the key tests of the next Labour government that we address this issue. But we also need to do so in a way that commands public support and respect.
"Need is, and will remain, a crucial test of who gets a house."
He went on to cite the Manchester example, where people who volunteer or who work or have been good tenants in the past are given priority in council housing allocation.
"This approach means that rather than looking solely at need, priority is also given to those who contribute - who give something back," Mr Miliband said.
"It's fairer and it also encourages the kind of responsible behaviour which makes our communities stronger.
"It is not about punishing people. It is about rewarding people who do the right thing in their communities."
Employment Minister Chris Grayling said Labour was responsible for the state of the benefits system, which was currently being reformed by the coalition.
"Labour created a welfare system where work didn't pay, where families were sometimes better off apart and where average earners paid for benefits claimants to live in houses they could never afford themselves," he said.
But Mr Field said Mr Miliband's comments represented a "huge break with the New Labour values which somehow endlessly talked about the responsibilities of the poor but never much enforced them".