Ed Miliband looks for definition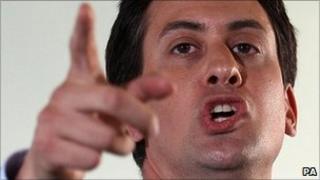 In 1875, Karl Marx coined the phrase "from each according to his ability, to each according to his needs".
The USSR modified this somewhat with the phrase "from each according to his ability, to each according to his work".
So when backbench - and even some frontbench - Labour MPs were privately fretting over leader Ed Miliband's "lack of definition", they might not have expected him to fill the gap with Soviet-style rhetoric.
But he has signalled that social housing should no longer go automatically to those in greatest need - but priority could instead be given to those in work or those who "give something back" to society by engaging in voluntary activities.
The problem he was trying to fix was the perception that Labour was rather too relaxed about those who do not play by the rules: those who could work, but claim benefits instead.
This was seen as a barrier to gaining support at the last election - especially in southern England - from what politicians like to call "hard-working families".
'Intensely relaxed'
In short, those who struggle to get by but feel aggrieved that life is rather less onerous for those who refuse to put in the effort.
So, no more of Old Labour's "something-for-nothing" handouts.
But, in a speech in south London, Mr Miliband also recognised that his party had been behind the curve not just in regulating the banks, but in expressing distaste at the excessive rewards enjoyed by some of those in the boardrooms of Britain.
Hence more transparency on the pay gap between those at the corporate pinnacle and those down at base camp in the company's remuneration structure.
He said - unlike New Labour - he was not going to be "intensely relaxed by what happened at the top of society".
But there was another purpose to his speech: Mr Miliband is unlikely to be too laid back about what is happening at the top of the Labour Party either.
There is no open revolt against his leadership, and he will no doubt be delighted that Tony Blair said he was "content" to give him "100% backing" in a BBC interview.
However, there has been unease rather than enthusiasm among some in his ranks - worried by what they see as lacklustre performances at Prime Minister's Questions, local election results that they had expected to be better, and a failure to penalise the government when given the open goals of NHS reform and prison sentencing.
Re-launch?
Then there is the uncomfortable "what-could-have-been" question - with the leak at the weekend of a draft of the speech his brother David would have delivered had he won last year's leadership election.
Opinion polls register more approval for Labour than for its leader, and a recent YouGov survey suggested 41% of Labour voters thought Ed Miliband was the wrong choice to lead his party, with 45% of Labour voters apparently believing that David Miliband would have been better.
After his speech, Ed Miliband took questions from an invited audience of community groups and local business people and got an unexpected battering from a Herne Hill chip shop owner who mistook him for his brother David. This may give those who deny that the Labour leader lacks "definition" some food for thought.
Party insiders deny the event was a "re-launch" of Labour's leadership, but strategists say there will be a much clearer sense of direction communicated from the very top from now on - and that this should put paid to the grumbles.
There were not a huge number of actual policies, but Ed Miliband's aides are content that he has set out a sense of direction so we are to be treated to a range of similar speeches between now and Labour's conference in the autumn.
In truth, Mr Miliband has a difficult challenge.
He wanted to give the appearance that Labour would learn the lessons of its electoral failure, but by declaring last year that his policy review would start with a "blank sheet of paper" the media have not - perhaps logically - come looking to the official opposition for solutions to Britain's problems.
Instead, as the Lib Dems have become more assertive within the coalition - and more public about their differences with the Conservatives on some issues - it has become more difficult for Labour to be heard.
So in the months ahead it will be important for the opposition not only to give voters a sense of Labour's message - the potential policy solutions to the problems they identify - but Mr Miliband will also have to reassure his own colleagues that he is the right messenger.