EU foreign chief Baroness Ashton defends budget rise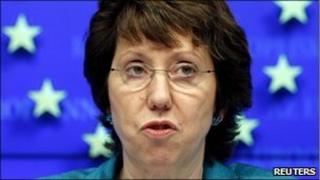 EU foreign minister Baroness Ashton has defended asking for a budget rise for her new External Action Service.
Her request for a 5.8% increase for the EU's new diplomatic service was described by the UK's minister for Europe as "somewhat ludicrous".
Baroness Ashton told peers she had made some savings but had not been given enough money to cover staff costs.
She also denied suggestions EU states were "jealous" of the EAS and were concerned about "mission creep".
Baroness Ashton - a former leader of the House of Lords, now the EU's foreign policy chief - returned to the UK Parliament on Tuesday for questions from the Lords EU Select Committee.
Criticism
She was made EU High Representative for Foreign Affairs and Security Policy in 2009 - a role created by the Lisbon Treaty.
She has since come in for some criticism - including from the French, Belgian and Austrian foreign ministers - on various issues.
Last month David Lidington, the UK's minister for Europe, criticised her request for a 5.8% budget rise and said the UK would need to see "the detailed workings".
He also suggested some EU diplomatic missions were trying to usurp the functions of national foreign ministries, saying London had sent out instructions to its embassies asking them to be "vigilant about any risk of competence creep" by EU delegations.
And Baroness Ashton has faced criticism in the British press about the cost, size and scope of the EAS.
She told peers she was "extremely conscious" of the need to effectively use resources - the EAS budget for 2011 was 475.8m euros (£404m).
'Different views'
She had implemented a 10% efficiency drive on budgets she could control she said and stressed many overseas EU staff worked, not for her but for the European Commission.
But she said there were costs she could not control and she had "inherited" staff from different institutions when the EAS was created, who had to be paid.
"The amount of money that was transferred with them doesn't match the amount of money that I have to pay them," she said.
She added that the creation of a new country, southern Sudan, had brought its own cost pressures and more resources were needed for Libya, Egypt, Tunisia.
'Foreign Office for Europe'
Baroness Ashton admitted there were "different views" across EU member states and institutions about what her role should be but said a general agreement had been reached.
"I'm creating a service for the member states, for the institutions, that will enable Europe when it wishes to speak as one, to speak as one more effectively than it did before."
Responding to suggestions the EAS was meant to be a "Foreign Office for Europe", she said it was not "a replacement of what countries do very well" but offered the chance to "bring together the common policies" of all 27 member states "and develop an approach that means you have more bang for your buck".
She said work would be "complementary to" that done in individual EU countries' foreign offices and while the EAS could take the initiative, it would have to have the back-up of EU states to be effective.
Discussing reports that EU delegations were seeking to expand their responsibilities at the expense of member states, committee member Lord Plumb said he was surprised to hear there was "a certain amount of jealousy" between embassies and the EU.
She denied there was jealousy and said there had been a "dialogue" in some countries about how the two should co-ordinate effectively but that had been "worked out in many countries on the ground".
"If it went perfectly from day one it would be astonishing. I don't think or I've not had any challenges from any member state at all that we are doing some kind of 'mission creep' - nobody has said that."
She denied her initiatives had to be bland for fear of treading on the toes of EU member states: "I don't accept that - I'm really ambitious for what we can do." She said the only way to achieve things was to be as "ambitious as possible".
Committee chairman Lord Roper told the BBC Baroness Ashton had had an "unfair press".
He said the EAS had pulled together people who had worked for the European Council and European Commission and there had been "an enormous amount of back-biting and people fighting their corners in Brussels".
And he added: "There are obviously people who didn't get her job and who haven't been terribly charitable towards her."