Landale online: Afghan troop debate set to intensify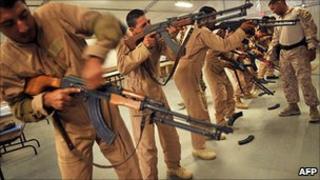 Every so often a sentence comes along that jumps up and demands to be written, however ludicrous and unlikely. This is one of them.
Last night, while wearing a pair of protective, anti-ballistic boxer shorts, I watched Coronation Street in a dusty tent in Afghanistan with the defence secretary, the heads of the army and navy and the British ambassador to Kabul.
I drank Gatorade, they nibbled soggy energy bars that had wilted in the 45 degree heat.
We were there, gazing blankly into the British Forces Broadcasting Service television set, at the request of the RAF after one of their C130 Hercules transport aircraft had unexpectedly given up on its labours and broken down on the apron at Camp Bastion.
After an exhausting day touring Helmand province, it was all we could do to get up to change the channel.
The anti-ballistic underwear was all that was left of the increasingly sophisticated body armour and protection that the joint forces of the BBC and the Ministry of Defence require correspondents to wear to satisfy wives and insurance companies.
Apparently these somewhat warm pants are so effective in deflecting shrapnel that the US military have just ordered 35,000 pairs. So, as I sat, properly dressed for war and chastity, I mulled over the past frenetic 24 hours as we flew in the blistering heat from headquarters to patrol bases across Helmand province.
Here are a few impressions, in no particular order:
1. ARMY TRAINING
The Afghan National Army is being trained by the Americans and the British not just to churn out local soldiers who can fight the Taliban but also to create a sense of national Afghan identity.
We visited the Kabul Military Training Centre, the largest of eight such centres in Afghanistan, into which the US is pouring $1bn a month. The money is astonishing and a significant part of Afghan GDP. The classes there are balanced sensitively to include all ethnic groups. Cadets are encouraged to put nation before all else. They are taught how to read and write. In a country that is disperse, divided and tribal a new national organisation is being created that may have unexpected consequences.
2. TALIBAN BATTLE
British military commanders here are genuinely confident that, at last, they are hitting the Taliban hard. They say they are disrupting their networks and communications, seizing so much opium that their finances are in pieces, leaving many fighters unpaid for several months. And they say that by striking at communications, the Taliban are increasingly localised and thus more vulnerable to persuasion.
Above all, they are now well into the summer fighting season and the number of Taliban attacks is down. What all British commanders ask themselves is whether a tipping point has been reached or whether all this progress is as reversible as it has been in the past. But having made many of these trips before, this is the first time that I have seen senior officers allow themselves to hope.
3. POLICE PROGRESS
The new idea of training up part-time police seems to be working. The Afghan National Police has always been a struggle, riven as it is with corruption, incompetence and drugs. But commanders say the new Afghan Local Police is working. They are part-time policemen recruited from the local community. The key thing is that they know everyone and everything that moves and so spot outside Taliban fighters far quicker than any visiting troops.
4. CAUTION
But for all the optimism, there is caution too. Nato commanders worry about how long it will take for the Afghan National Army to become genuinely self-sustainable. They worry about how confident local people feel about how safe they will be once combat troops leave in 2015. Some officers worry there is not enough development action taking place once they have secured an area and kept it free of Taliban.
5. TROOP DEBATE
There is clearly quite a hot debate taking place in Whitehall about troop numbers in Afghanistan. Some in Downing Street are keen to crack on with the process of drawing down British forces ahead of the declared deadline of them all being out by 2015.
But commanders here in the field - with whom the defence secretary clearly sympathises - fear that they may start losing troop numbers for political reasons just when they are finally making a difference - and before the Afghan army is ready. They fear that ministers will feel encouraged by President Obama's announcement next month of how much of his so-called surge of troops he is planning to start bringing home. After all the rows over defence cuts, another beckons over this.