MPs meet in private to discuss expenses body budget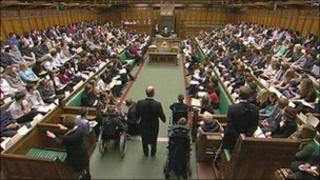 MPs are meeting in a closed session to discuss whether they will sign off the budget for their expenses watchdog.
The Independent Parliamentary Standards Authority took over the running of MPs' expenses from the House of Commons following the 2009 scandal.
But it is dependent on the Speaker's Committee on Ipsa to sign off its £172.098m budget estimate for 2011-12.
The committee, which has been critical of Ipsa's bureaucracy, must make a decision by 4 July.
At the meeting on Wednesday members of the committee, chaired by Speaker John Bercow, are discussing whether they will sign off the estimate.
The watchdog's running costs make up only a fraction of the overall budget - £6.364m - the bulk of the money covers expenses payments and staff costs.
Last year its budget was approved in July - but only after a stormy session at the Speaker's Committee where Ipsa bosses were hammered by criticism about its running costs and the way it operated.
This May Ipsa chairman Sir Ian Kennedy, director of finance Bob Evans and director of operations Scott Woolveridge defended their costs at a public meeting before the committee and denied suggestions they were not sufficiently interested in value for money.
Among criticisms by MPs on the committee was the necessity for a part-time compliance officer - on an annual salary of £73,000 pro rata - and complaints that their own staff's time was being used up submitting expenses claims under the new system.
Other MPs have complained of being "harangued" over their expenses claims and in May the Commons backed a motion, brought by Conservative backbencher Adam Afriyie, to revive a dormant Commons committee to review the laws which set up Ipsa.
After the expenses scandal it was agreed by all parties to end the old system of self-regulation and there was wide agreement about the need for transparency - the Commons spent years fighting efforts by journalists and Freedom of Information campaigners to publish more details of MPs' expenses.
A spokeswoman for the committee said the result of Wednesday's meeting would be made public, when the committee makes its recommendations.
She said: "All select committees have private sessions as well as public sessions when they meet to discuss things among themselves to discuss the evidence they heard in public session."