How George Osborne has escaped flak over cuts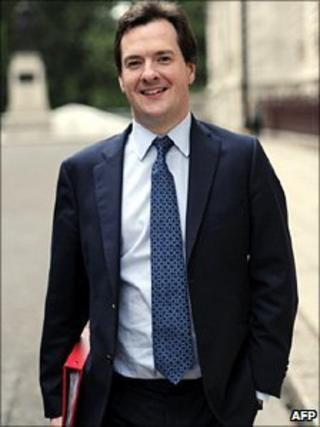 For a politician who is having to implement some of the deepest spending cuts in a generation, Chancellor George Osborne has emerged remarkably unscathed.
But is this because he's Teflon George, clever George or lucky George?
Well, Mr Osborne has never hid from the public the scale of pain he was going to have to inflict on them.
His friends say this means he gets credit from the electorate for his candour.
Thing might be much worse, they say, had he suddenly announced sweeping cuts without making the case for them in advance.
"It would have been easy to say everything was fine and then after the election deliver the bad news," says his former chief of staff, now Tory MP, Matthew Hancock.
But Mr Osborne has also been careful not to get too involved in the grisly business of implementing the cuts.
Instead it has been the task of individual spending ministers to steep their hands in blood.
Hence it has been left to Business Secretary Vince Cable to take the heat over tuition fees; or Justice Secretary Ken Clarke to face uproar over his plans to reduce the prison population.
Andrew Tyrie, the Conservative chairman of the Treasury select committee, believes Mr Osborne has very shrewdly chosen to remain in the background.
"Unlike [former chancellors] Ken Clarke and Gordon Brown, who both thought they could run spending departments better than spending ministers, George Osborne is not trying to run individual departments," he says.
'Bad medicine'
Mr Osborne has also been helped by the presence of a Liberal Democrat, Danny Alexander, as his chief secretary.
Rather as Nick Clegg has provided an occasionally useful political shield for David Cameron, so too Mr Alexander has provided cover for the chancellor.
"One reason why George is not the fall guy is you don't see much of him in the media," says the former Tory spin doctor Sheila Gunn.
"It tends to be Danny Alexander who has to come out and announce the bad medicine."
As for luck? Well, there's no doubt that George Osborne has been helped by Labour's failure so far to mount a strong challenge over the economy.
Labour's Alan Johnson also believes Labour have been distracted from taking on Mr Osborne.
"He [George Osborne] took advantage of an over-long leadership contest when no-one was countering his simple message - that the country's economy was like a credit card and we were to blame for everything."
And yet older Tory politicians do not believe Mr Osborne's seemingly charmed political life can continue forever.
The economy is central to the success or failure of every government and George Osborne, like all chancellors, will be judged on whether he has made the right call on the economy.
In the end therefore - however lucky or clever - there can be no hiding place for any chancellor.