Many Tory councillors 'oppose housing benefit cuts'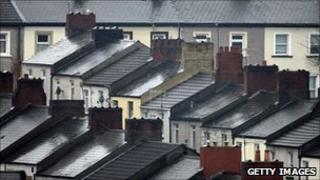 More than two-thirds of Conservative and Lib Dem councillors oppose a key plank of the government's housing benefit changes, a survey suggests.
Almost half of Lib Dems polled by the charity Shelter also feared the plans would lead to a rise in homelessness.
Work and Pensions Secretary Iain Duncan Smith said "scare stories" about rising homelessness were nonsense.
The government wants to cut the housing benefit bill and change a system it says is unfair.
The survey suggests that 68% of Conservative councillors and 80% of Lib Dems object to plans to limit rises in local housing allowance rates to the CPI (consumer prices index) measure of inflation from 2013 - rather than setting them in relation to local rent costs.
It also suggests that 49% of Lib Dems agree that housing benefit reductions made homelessness in their areas more likely, and over half opposed the scale of cuts to the benefit.
The leader of the Liberal Democrats on Richmond-upon-Thames council, Stephen Knight, said: "It's really, really pernicious, nasty stuff from this government and they're clearly Conservative-led policy changes, but in my view Liberal Democrat MPs and ministers have not done nearly enough to prevent these from coming through either."
David Skinner, a Conservative councillor in Coventry and a director of a housing association, said he supported action to cut the deficit and thought some changes to housing benefit were necessary.
But he said he was "somewhat overwhelmed" by the pace of change in housing benefit and other policy areas.
He added: "People in ordinary jobs living ordinary lives, I thought [they] would be confused by the sheer pace of change - and worried.
"So my comment, in effect, was although I'm a loyal member of the Conservative Party and I support the Conservative Party, I didn't think frankly that we were doing as good a job as we might have done on explaining why and in good time."
The government says the housing benefit bill has almost doubled in the past decade.
Mr Duncan Smith said: "The failure of the last Labour government to reform housing benefit has left us in the absurd situation where some benefit claimants can claim over £100,000 a year to live in large houses in expensive areas.
"This is unacceptable when hard working individuals and families are struggling either to find affordable private rents or pay their mortgages.
"Scare stories that housing benefit changes will force thousands of families from their homes are nonsense and are causing unnecessary distress.
"A small number of people may have to move and we are providing local authorities an additional £190 million over the next four years to smooth the transition.
"Instead of complaining, responsible councils should be working to effectively implement these policies, and recognise that we are trying to get people off benefits and into work, and drive the cost of the benefits bill to taxpayers down."
For Labour, shadow work and pensions secretary Liam Byrne claimed the government's "botched changes" will increase the housing benefit bill by £1bn and "put working families out on the street".
"We've warned the government to change course. Now perhaps they might listen to their own councillors," he added.
Benefits cap
Shelter's survey suggests that 67% of Liberal Democrat councillors believe reductions to housing benefit will lead to significant knock-on costs for councils - and that local authorities do not have sufficient resources to cope with extra pressure on public services.
But it says only one in five Conservatives oppose the scale of cuts to housing benefit.
The vast majority of Labour councillors opposed the government's plans.
ComRes surveyed 1,299 councillors across England, Scotland and Wales online, between 1 and 13 June 2011.
Shelter, which commissioned the work, has opposed the government's housing policies.
Another Lib Dem councillor, Chris Naylor, from Camden, said a survey by his council suggested the reforms would see the majority of landlords in the borough reducing their rents.
Simon Hughes, the deputy leader of the Liberal Democrats, will hold a meeting with Mr Duncan Smith on Wednesday to discuss a £26,000 overall cap on the benefits families can claim.
Mr Hughes, who is the MP for Bermondsey and Old Southwark in south London, has said the government should act to limit the impact of the cap on different-sized properties on Londoners.