Downing Street plays down John Bercow spat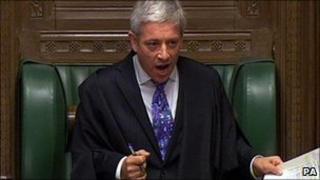 Downing St has insisted the PM is "entirely" happy with the way John Bercow runs PM's questions - after he stepped in to cut Mr Cameron short.
The Speaker stopped a sustained attack by Mr Cameron on the Labour leader Ed Miliband by calling the next question.
And after another lengthy answer he told the PM the session was "principally for backbenchers".
The BBC's Vicki Young said Mr Cameron appeared to glare furiously at the Speaker when he was interrupted.
It comes amid growing tension between Downing Street and Mr Bercow over ministers briefing the media on policy issues before they tell Parliament.
In recent weeks, Mr Bercow has summoned several ministers to the Commons to answer urgent questions from the Opposition after stories had appeared in the press.
Cut off
But our correspondent said Mr Bercow was now prepared to go further and grant emergency debates, if government ministers continued to ride roughshod over Commons protocol in this way.
Emergency debates can last for three hours and take precedence over all other business - potentially causing serious disruption to government legislation.
The Speaker, who chairs debates between MPs, is the chief officer and highest authority of the House of Commons.
Mr Bercow was a Conservative MP before being elected to the politically impartial role in 2009 - in which he was backed by many Labour MPs.
It is his job to keep order in the Commons and he often remarks at prime minister's questions that the public do not appreciate rowdy behaviour in the Commons. He also cuts MPs short for long or irrelevant remarks during debates.
But at prime minister's questions on Wednesday it was Mr Cameron's turn to be cut off.
Angry glare
It started when the PM responded to Ed Miliband's suggestion that people up and down the country were asking: "What is he doing to our NHS?"
Mr Cameron chose to respond in lengthy fashion by criticising Mr Miliband for not raising the issue of Thursday's public sector strikes - and raising the issue of Greece's debt crisis.
As he suggested Mr Miliband "has to talk about the micro because he can't talk about the macro" Mr Bercow cut in with: "We're very grateful" and called Conservative MP Guto Bebb to ask a question.
As MPs roared, Mr Bercow told them: "Order, order. I appeal to the House to reflect on what the public thinks of this sort of behaviour."
Journalists in the Commons press gallery spotted Mr Cameron shooting an angry glare at the Speaker.
As the half-hour session drew to a close, the Speaker interjected again as the prime minister answered a question about rising crime from Labour's Clive Efford, who urged him to "get a grip in London".
In his response, Mr Cameron went through various crime-related policies the government had put into place, then went into a lengthy explanation about the Metropolitan Police's "Operation Target" - as he finished listing its successes, the Speaker appeared to reprimand him, saying: "Order, prime minister's questions is principally for backbenchers."
Mr Bercow has clashed with some Conservative MPs - including Tory chief whip Patrick McLoughlin and backbencher Mark Pritchard - since becoming Speaker. Others, such as Nadine Dorries, have been critical of him.
However he has also won praise for being far more willing than his predecessor to grant urgent questions, which let MPs force ministers to come to the Commons to make statements.