Ed Miliband's failure to support strikes 'a disgrace'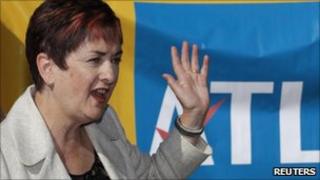 The head of one of the unions striking over pensions has said Ed Miliband "should be ashamed of himself" for urging workers to call off the action.
Mary Bousted, leader of the Association of Teachers and Lecturers, told a rally in London his stance was "a disgrace".
The Labour leader said the strikes were "wrong" because negotiations with the government were still ongoing.
He said his MPs should turn up for work as normal on Thursday despite the picket lines outside Parliament.
Hundreds of thousands of public sector workers have staged a 24-hour walkout in protest at planned changes to their pensions.
They include members of three teaching unions and the Public and Commercial Services (PCS) union, which represents civil servants but has no formal links to the Labour Party.
The action has been condemned by ministers who insist that meaningful negotiations are still continuing.
The unions involved in these talks - Unite, the GMB and Unison - were also those that last year backed Mr Miliband's bid for the Labour Party leadership.
Angry response
Mr Miliband told the Local Government Association (LGA) annual conference in Birmingham that he understood "the anger of workers who feel they are being singled out by a reckless and provocative government".
But he said: "I also believe this action is wrong.
"Negotiations are ongoing, so it is a mistake to go on strike because of the effect on the people who rely upon those services.
"And it is a mistake because it will not help to win the argument."
The Labour leader's stance sparked an angry response from Ms Bousted when she addressed an audience of striking workers in Westminster Central Hall.
"I am pleased we are not affiliated to Labour," she said, to loud applause.
"The response of Ed Miliband has been a disgrace - he should be ashamed of himself.
"If our strike is a mistake, what has he done to oppose this devastating attack on our pensions? If the opposition will not defend our pensions, we will."
She later told the BBC that the Labour leader had "not taken any interest" in the fact that the government had never carried out a promise valuation of the teachers' pension scheme.
"We haven't been able to negotiate, we haven't had the basic information we need from the government.
"[So] to come at this stage, two days before the strike, and say, 'You should negotiate, there's another way round'... is, frankly, unhelpful and ill-informed."
'A mistake'
Christine Blower, the leader of the National Union of Teachers, told the BBC's Question Time she would have liked more from the Labour leader.
"It would have been nice if Ed Miliband had felt he could have supported what we're doing," she said.
The NUT is not affiliated to the Labour Party and Ms Blower refused to be drawn on whether she would have chosen Mr Miliband to lead it.
Shadow business secretary John Denham was booed by the Question Time audience when he too refused to support the walkouts.
"I actually think the strike was a mistake because children lost a day in school today that they shouldn't have lost and many parents had to take a day off," he said.
"I don't think it was justified when there are talks taking place."
Labour MP John McDonnell said earlier that public sector workers "expected more" from the Labour leader and urged Mr Miliband to listen to their concerns over pensions.
"They want to have an opportunity to explain to him why they feel so strongly about what is happening to their pensions," he said.
Mr Miliband also condemned the government's handling of the pensions issue, accusing ministers of declaring their final position while talks were still taking place.
"This disruption could have been avoided if ministers had been willing to engage with the concerns of those affected by changes to public sector pensions," he told the LGA.
"The government's handling of the issue has been high-handed and arrogant."