Frank Field seeks pay rise for 1.5 million workers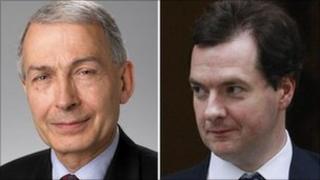 Ministers have been urged to fulfil a "moral commitment" that all low-paid public sector workers get a pay rise.
Labour MP Frank Field says George Osborne has reneged on a promise to give 1.7 million staff a £250 rise.
The Treasury says he was clear it would only apply to certain workforces who come under ministerial control or have pay review bodies, like teachers.
But Mr Field said he had promised that 1.7 million staff would get a rise and demanded to know how many had done so.
The senior Labour backbencher raised the issue in an amendment to the Finance Bill during a debate on Monday evening.
In his first Budget as chancellor last June, Mr Osborne announced a two-year pay freeze for all public sector workers earning more than £21,000.
As well as exempting the 1.7 million below that threshold, he also said they would "each receive a flat pay rise worth £250 in both these years, so that those on the very lowest salaries will get a proportionately larger rise".
No vote
Mr Field asked how many of the 1.7m had received the pay increase and told MPs that "low paid workers in my constituency feel that they have again been let down."
He said he would not push the issue to a vote as they would "return to this subject in great detail later in the parliament".
Treasury minister David Gauke told MPs that where it was within the control of central government, public sector workers on less than £21,000 would get the £250.
He said the civil service and work forces with pay review bodies, including NHS staff, teachers, the armed forces and prison staff, would get the money - "many" of whom had already received a rise this year.
He said provision was made in the local government settlement for councils to pay the £250 increase: "But the fact is that these are decisions that are made by local authorities. We gave them the opportunity to pursue the policy that we are doing at a national level but it is ultimately the decision of local authorities how they pay their employees."
Mr Field pressed him to say how many of the 1.7m had received the £250 - Mr Gauke repeated that where it was within central government control, low paid employees would get the money.
'No caveats'
But Labour MP John McDonnell said when Mr Osborne made his statement there were "no caveats".
"It was a straightforward commitment to pay 1.7m workers the £250. There is a moral commitment here given by the chancellor. It behoves the government to intervene to ensure the full 1.7m workers get the fulfilment of the pledge given by the chancellor, without any caveats."
In 2008, Mr Field, a former Labour welfare reform minister, led the campaign that forced Gordon Brown to compensate low-paid workers who lost out from the abolition of the 10p tax rate.
Mr Field has also conducted a review of poverty and life chances for Prime Minister David Cameron, which recommended spending more money on improving parenting skills.
Research by the House of Commons Library estimates 2.2 million public sector workers earned less than £21,000 in 2010.
Mr Field says that 715,000 of these have pay review bodies setting their wages or are under ministerial control.
That leaves just under 1.5 million public sector workers denied the promised pay rise, says the Labour MP, leaving them worse off at a time of great hardship.
The Treasury said that while it could not order councils to award the pay rises, it did expect them to "provide the lower paid with some protection" from the impact of the wage freeze.