How politicians and the press became so close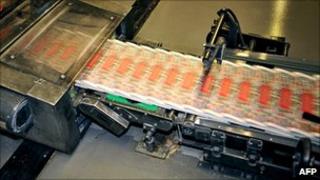 The leaders of Britain's main political parties agree on one thing: politicians and the press have got too close.
Many a briefing may happen in the shadows, but the links between those at the top of both worlds are there for all to see.
Prime Minister David Cameron has described Andy Coulson - the former News of the World editor he brought into Downing Street and who has now been arrested and bailed on suspicion of bribing police officers - as a friend.
Ed Miliband has agreed that his predecessors as Labour leader, Tony Blair and Gordon Brown, grew too close to News International and other newspaper proprietors.
Yet he still hired as his spin doctor former Times reporter Tom Baldwin.
And just over two weeks ago, both the prime minister and the leader of the opposition were guests at News International chief Rupert Murdoch's summer party in Kensington.
Connections
Little secret has been made of the connections between Fleet Street and Westminster, and many of those links are spelt out in the MPs' Register of Members Interests.
In December 2009 Mr Cameron registered a personal sponsorship of £1,241 from News International. The money covered the cost of hosting a meeting at the House of Commons in July 2009, while Mr Cameron was leader of the opposition, to discuss combat stress.
Payments were made in instalments of £437 in August that year and £739 that November, with £65 remaining unpaid.
A Conservative spokesman said Mr Cameron declared the money because invitations went out in his name, but the money went directly to the House of Commons authorities, not through the leader of the opposition's office.
News International sponsored it, the spokesman said, due to their keen interest in troops' welfare.
This was, of course, long before allegations emerged that the News of the World was responsible for hacking phones belonging to bereaved service families.
Contracts and articles
The most recent edition of the register also shows Labour's former Home Secretary David Blunkett receiving £25,000 for a six month contract advising News International on corporate social responsibility.
A spokeswoman for Mr Blunkett said he had offered advice to News Corp's volunteer programme which works with the charity Fairbridge/Prince's Trust. The money was used to fund his office and charitable donations, she said, and he has not used it for his own personal expenditure.
It is common for MPs, a good number of whom are former journalists, to be paid for writing newspapers articles.
To pick three at random from the current register, former Labour justice secretary Jack Straw, former Lib Dem minister David Laws and campaigning Conservative backbencher Douglas Carswell have all been paid for writing for The Times. Four to five hundred pounds appears to be the going rate.
All the payments were legitimate and properly registered. They broke no rules.
And MPs might well ask why they should not be paid for articles, like other writers. After all, they also receive fees for television and radio appearances.
There is an irony here. Talk of cosiness between politicians and journalists raises eyebrows among some at Westminster. Those MPs who are regularly mocked and attacked by the papers feel their relationship with the press is anything but warm.
Transparency call
But campaigners say there needs to be much more information about the way the media and political classes work together.
Martin Moore, of the Media Standards Trust, says: "This is part and parcel of the whole issue of making transparency, not just about the Register of Interests, but meetings between politicians and senior News International executives, and correspondence."
The issues are not new.
In the House of Commons the culture secretary Jeremy Hunt made the point by brandishing a book written by Tony Blair's former chief of staff Jonathan Powell, in which Mr Powell said the "failed relationship" between press and media was first discussed in 2002, but Mr Blair never thought the moment was right to speak out.
The Conservative allegation is that Labour, while in government, failed to act.
Labour argues the current government is in "chaos and confusion" as it tries to make changes.
The difference now is the way reporters do their job is at the top of the political agenda.
That has left a relationship between press and politicians - now regarded as much too cosy by many - considerably less comfortable.