Commons reinstates BBC producer's pass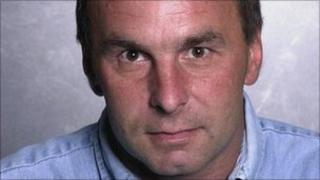 A BBC producer has had his Commons pass reinstated after being banned for filming the aftermath of the foam attack on Rupert Murdoch.
Paul Lambert's parliamentary pass was suspended for breaking rules on using a camera in Portcullis House.
It prompted a Twitter campaign for Mr Lambert, nicknamed "Gobby" - to get his pass back and Tory MP Louise Mensch also raised the issue in the Commons.
PA's Theo Usherwood has also had his pass reinstated after a similar ban.
The Commons culture, media and sport committee hearing on Tuesday was suspended when a man threw foam at Mr Murdoch at the end of a lengthy evidence session about phone hacking at the News of the World.
'Save Gobby'
He was removed from the room and led away by police - and the row over passes was about efforts to continue reporting events, as there are strict rules on what can be filmed inside Parliament.
But reports of his pass being suspended prompted a "Save Gobby" campaign on the micro-blogging website Twitter - which was joined by Mrs Mensch, Sally Bercow - wife of Commons Speaker John - and shadow chancellor Ed Balls.
Mrs Mensch raised the issue as a point of order in the Commons on Wednesday afternoon: "I have just learnt that the BBC journalist Mr Paul Lambert, who reported yesterday on the egregious breach of security that happened during the CMS committee, has had his parliamentary press pass removed by the House authorities.
"I hope that the House will agree with me that it's appropriate that we support freedom of the press, particularly when the press are reporting on serious failures of security in this House."
A spokeswoman for the Speaker said: "The circumstances in which the breaches of the regulations took place were unprecedented and unpredicted.
"We have had assurances from all the journalists concerned that they will respect the filming regulations in future and the Speaker feels that no useful purpose will be served by the withdrawal of these passes."
Mr Bercow has already ordered an investigation into the foam attack.
Jonathan May-Bowles 26, from Windsor, has been charged with behaviour causing harassment, alarm or distress in a public place and will appear before magistrates on 29 July.