Nick Clegg urges scrutiny of News Corp's BSkyB stake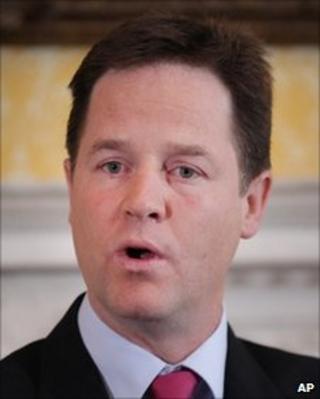 Nick Clegg has said media watchdogs must consider "very seriously" whether News Corporation is a suitable business to remain a shareholder in BSkyB.
The deputy prime minister said Ofcom must "show by their actions" that they are taking the issue seriously in the aftermath of phone-hacking revelations.
Lib Dem MPs have been urging the watchdog to apply its "fit and proper" test to News Corp's 39% share in Sky.
The firm dropped its bid to take full control amid political opposition.
Following allegations that the News of the World had hacked into the phones of murdered schoolgirl Milly Dowler and the families of 7/7 victims, all parties united to oppose the deal.
But three senior Lib Dem MPs wrote to Ofcom last week to press for it to examine News Corp's controlling stake in the broadcaster.
Ofcom has said it is "closely monitoring" the situation regarding alleged malpractice at News International - News Corp's UK newspaper arm - and investigations into what happened there.
The regulator has a statutory duty to satisfy itself on a continuing basis that the holder of a broadcasting licence is "fit and proper".
As part of this process, it has said it must "take account of News Corporation's conduct" in assessing whether BSkyB remains fit and proper as a licence holder.
Speaking at a news conference, Mr Clegg said this test should be "rigorously applied all the time and not just in a snapshot way".
"Ofcom have confirmed that they have got that ability to judge whether a media group is fit and proper or not," he said.
"And I very much hope that they will show by their actions that they are taking that very seriously".
"This fit and properness test has some meaning. There needs to be evidence quickly that the fitness and properness is applied on an ongoing basis to News International and other media organisations."
Ofcom has stressed it will not act on the basis of unsubstantiated allegations and will do nothing to prejudice any criminal proceedings.
But it has confirmed that it does have the power to act before the conclusion of a criminal investigation if it found a firm or directors were unfit to own a licence.
There have been no allegations made against BSkyB.
News Corp has said it remains committed to its stake in the firm - the UK's largest commercial broadcaster - and proud of its involvement in the firm.
'Murky practices'
Mr Clegg defended the prime minister's conduct during the course of News Corp's attempted bid after Mr Cameron insisted on Wednesday that he had removed himself from the process and had had no "inappropriate conversations" with any News Corp executives over the subject.
He confirmed he had questioned the appointment of former News of the World editor Andy Coulson as Mr Cameron's communications chief but added: "It was the prime minister's decision and the prime minister I think has been quite upfront about the fact that he is responsible for them."
It has emerged that Mr Coulson did not have the highest level of security vetting when he worked at Downing Street - having been subject to "security check" level, rather than the more rigorous "developed vetting".
Mr Clegg also said he hoped the judicial inquiry into what went on at the News of the World, other newspapers and the relationship between the press, police and politicians would lead to big changes.
"I think we now have a once-in-a-generation opportunity to really clean up the murky practices and dodgy relationships which have taken root at the very heart of the British establishment," he said.
Like Mr Cameron and Labur leader Ed Miliband, Mr Clegg has published details of all meetings he has had with newspaper editors, executives and proprietors in the past year.
Speaking at an event in Birmingham, Mr Miliband said the country "needed to look into its soul" after recent events and decide "what standards we want to set" in public life.