Expenses officer: Unfair to name MPs under investigation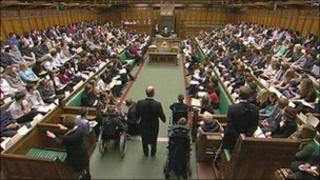 The man in charge of investigating MPs' expenses breaches has said he is reluctant to name those he is looking into, in order to be "fair".
MPs were very nervous, even about small claims, and weekly meetings with them was like "walking on thin ice", Ipsa compliance officer Luke March said.
When he begins a "substantive investigation" he is meant to name the MP and publish some details.
In May it emerged that he was looking into about 40 possible rule breaches.
Ipsa (Independent Parliamentary Standards Authority) chairman Sir Ian Kennedy said those were "preliminary investigations" - many of which he put down to the "growing pains of getting used to a new system".
'Lack of proportionality'
Mr March, who took over the job in June, investigates complaints against MPs, can demand they repay money and fine them if they refuse to provide him with information. He can also investigate MPs' complaints against Ipsa.
But in response to questions from the Press Association, he would not name those under "substantive" investigation - which takes place when the officer believes money should not have been paid out.
He said the investigations - under the expenses system set up to restore public faith in politicians' claims following the 2009 expenses scandal - were being done "for the first time" and there was a danger of a "lack of proportionality".
Many of the cases involved data entry mistakes by the MP, or Ipsa, he said.
"Compared to the previous world some of the things we are looking at are relatively small but the system does not make any distinction between major problems and trivial mistakes.
"Quite a lot of these cases I am referring to have resulted in immediate resolution."
Mr March said he wanted to be "fair to all sides" and he was not confident about all the information he had.
"With an MP their reputation is important. I am meeting MPs every week and it is like walking on thin ice. They are terrified that I might have the wrong idea about a particular fact, even if it is just about a small claim."
He added: "I want to be absolutely certain before I publish anything that I have got the facts."
Mr March said MPs who committed serious abuses would "certainly not" escape publicity altogether.
Guidelines published by Parliament last month state: "If the compliance officer begins a substantive investigation, he is required to publish the name of the MP and the particulars of the matter to be investigated. He has discretion as to whether to admit members of the public to any meeting with the MP, subject to guidance from Ipsa."
MPs 'within rules'
Under the previous system Parliamentary Commissioner for Standards John Lyon investigated expenses complaints - and those subject to full investigation were published on his website, and his findings reported by the Commons standards committee.
But some MPs were able to escape public censure for "less serious" cases under the old "rectification" procedure - in which they apologised for mistakes made and repaid the money. The commissioner would then write to the complainant with the result - but it was not more widely publicised. The practice had been criticised by former Speaker Baroness Boothroyd.
Sir Ian told MPs in May that the post was independent of the rest of Ipsa but dealt with "about 100 inquiries a month" and said there were about 40 "preliminary investigations".
But he said he understood they were "minor infractions which are to do with the growing pains of getting used to a new system" which would never grow into a full investigation adding: "What we are seeing now is MPs living within the rules."