Student visa restrictions rushed, MPs say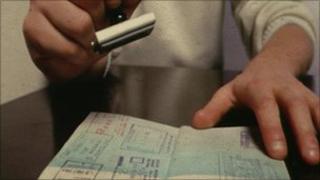 MPs have accused the government of rushing plans to curb student visas, saying they could harm the economy.
The Home Affairs Committee said that it was concerned that official figures indicated the restrictions could cost the economy £3.4bn.
Officials estimate the measures will cut net migration by 230,000 by the end of the current parliament.
Immigration minister Damian Green said the changes were introduced after full and extensive consultation.
Ministers announced earlier this year they would cut the number of students visas as part of their target to bring net immigration down to tens of thousands by the end of the Parliament.
The plan involves tougher English language tests, greater scrutiny of private colleges and restrictions on when students and their dependents can work. Officials estimate that the plans will eventually reduce the number of students by 75,000 a year, down from roughly 250,000 a year at present.
The government's "impact assessment", an official document detailing the predicted financial effects of the changes, was published 12 weeks after the proposals were revealed.
That document said that the total costs of cutting student numbers could be £3.5bn, but that would be partially offset by savings of £1.1bn. MPs said they were concerned the policy was going ahead as planned, despite the potential economic costs.
Keith Vaz, chairman of the home affairs committee, said: "The Home Secretary's dismissal of the impact assessment is very disappointing. The government appears to be not only making policy without adequate immigration statistics, but also ignoring its own evidence. We reiterate the need for an immigration policy which is both evidence-based and does not adversely affect the British economy."
Immigration minister Damian Green said: "The changes were introduced after full and extensive consultation. The extent of the crisis which this government inherited in the immigration system meant that tough early action was necessary."
In a separate report, MPs on the Scottish Affairs Committee said that the student visa changes would "adversely and unduly" affect Scotland.
The Scottish Affairs Committee said: "These proposals will have a disproportionate effect in Scotland, both because of the disproportionate size of the sector in Scotland and as they are primarily designed to address a problem which is largely insignificant in Scotland.
"In doing so, these proposals risk compromising and diminishing not only the high standard of education provided by higher education institutions in Scotland but also threaten the valuable contribution of the international students who study at these institutions, to Scottish society."