Essex Police hand Huhne speeding file to prosecutors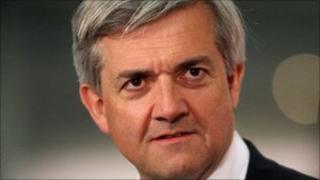 Police investigating speeding offence allegations against Energy Secretary Chris Huhne have handed a file to prosecutors.
The Crown Prosecution Service will decide whether to press charges against Mr Huhne, who denies asking his wife to accept his penalty points in 2003.
The police investigation began in May, after allegations surfaced following a newspaper interview with his wife.
Meanwhile Mr Huhne has been cleared of wrongdoing over his election expenses.
The Lib Dem cabinet minister found himself at the centre of a media storm over claims he asked his now estranged wife Vicky Pryce to accept penalty points on his behalf eight years ago, when he was an MEP.
'Simply incorrect'
Essex Police launched an investigation in May, after a Labour MP lodged a formal complaint, and interviewed both Mr Huhne and Ms Pryce for a second time last week.
At the time Mr Huhne welcomed the investigation as a chance to "draw a line under the matter" and said the claims were "simply incorrect".
A CPS spokesman said: "We have received a file of evidence from Essex Police in relation to allegations involving Christopher Huhne and Vicky Pryce.
"This file will be reviewed under the code for Crown Prosecutors and a decision on whether to charge will be made in due course."
It is understood the Director of Public Prosecutions Keir Starmer will take the final decision on the case, after it has been considered by lawyers.
Election complaint
Mr Huhne, MP for Eastleigh, is Energy and Climate Change Secretary in the coalition government - and was narrowly beaten to the Lib Dem leadership by Nick Clegg in 2007.
He confirmed last year he was splitting from Ms Pryce, his wife of 25 years, and was in a relationship with another woman.
Mr Huhne - who clashed with his Conservative coalition colleagues over the referendum on changing the voting system - has also found his election expenses under scrutiny.
In May a complaint was made by the Sunlight Centre for Open Politics, a group which campaigns for greater transparency in politics, which disputed spending Mr Huhne declared on leaflets and an election website.
But the Electoral Commission said on Wednesday it would take no action against the MP, having found only minor discrepancies. The cost of the website was £45.15 rather than the £35 reported - but was still within Mr Huhne's spending limit.
Mr Huhne reported spending of £18,608 against a limit of £28,874 for the "long campaign" period - and reported £10,911 against a limit of £11,024 for the short campaign period.
The Commission said Mr Huhne should take more care with his campaign literature, as some letters did not accurately carry the name of their printer, as they are required to.
But it said a decision to allocate £5,400 spending to the Lib Dem national campaign, rather than his Eastleigh campaign, was "reasonable and in line with Electoral Commission guidance".
The Commission said it was happy Mr Huhne's election agent had reported the money to the national party - but noted the national party had not included it in its own spending returns and should review its procedures.
Mr Huhne said: "The Electoral Commission is very clear that the campaign was properly within the legal limits, as I always maintained, and I am delighted that we have such a clear conclusion to this investigation."