Supermarket watchdog needs power to fine, MPs say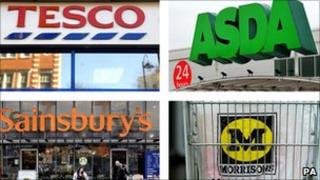 Government plans to get tough with supermarkets who treat suppliers unfairly do not go far enough, a committee of MPs has said.
Ministers are creating an adjudicator to resolve disputes, but the cross-party business committee said it should have the power to impose fines.
It also wants more protection for suppliers who may be afraid of making a complaint against a major supermarket.
Business Minister Ed Davey said he would consider the recommendations.
The independent Groceries Code Adjudicator (GCA) will investigate alleged breaches of the grocery industry code of practice.
The code was created to try to prevent supermarkets from using their size and power to impose unfair terms on suppliers.
Small suppliers have long complained that their profit margins have been squeezed as supermarkets have tried to drive down prices.
Anonymous complaints
As the draft legislation stands, the GCA's only sanction will be to require stores to publish the results of its investigations.
Only if this proves an insufficient deterrent will ministers consider granting it the power to impose fines.
But business committee chairman and Labour MP Adrian Bailey said: "We disagree with the government on the introduction of fines.
"We propose that fines be an available penalty from the start, not least so that the adjudicator's performance can be judged on the basis of a full package of remedies."
The GCA will already allow food suppliers to complain anonymously, but the MPs said it should be able to launch an investigation on the back of complaints from trade associations as well as individuals, in order to protect suppliers further.
"By the same token, there is a case for allowing whistle-blowers who are employees or ex-employees of a retailer to supply evidence of breaches," Mr Bailey said.
The new body will be funded by the supermarkets and the committee dismissed their claims that the cost was onerous and would have to be passed on to consumers.
National Farmers Union president Peter Kendall agreed, telling BBC Radio 4's Today programme: "Tesco's profits last year were £2 billion. We are talking about just over £1 million a year to run an adjudicator's office.
"I think that is not going to drive up prices and I don't believe it is going to affect consumers."
He said he hoped the government would now "beef up" the regulator because in the long-run, failing to protect suppliers would stifle investment and research and end up driving people out of business".
Labour leader Ed Miliband has said he is concerned about the lack of diversity in Britain's high streets, arguing that local people should have more of a say over the spread of supermarkets in their areas.